#RobinhoodRewind 2017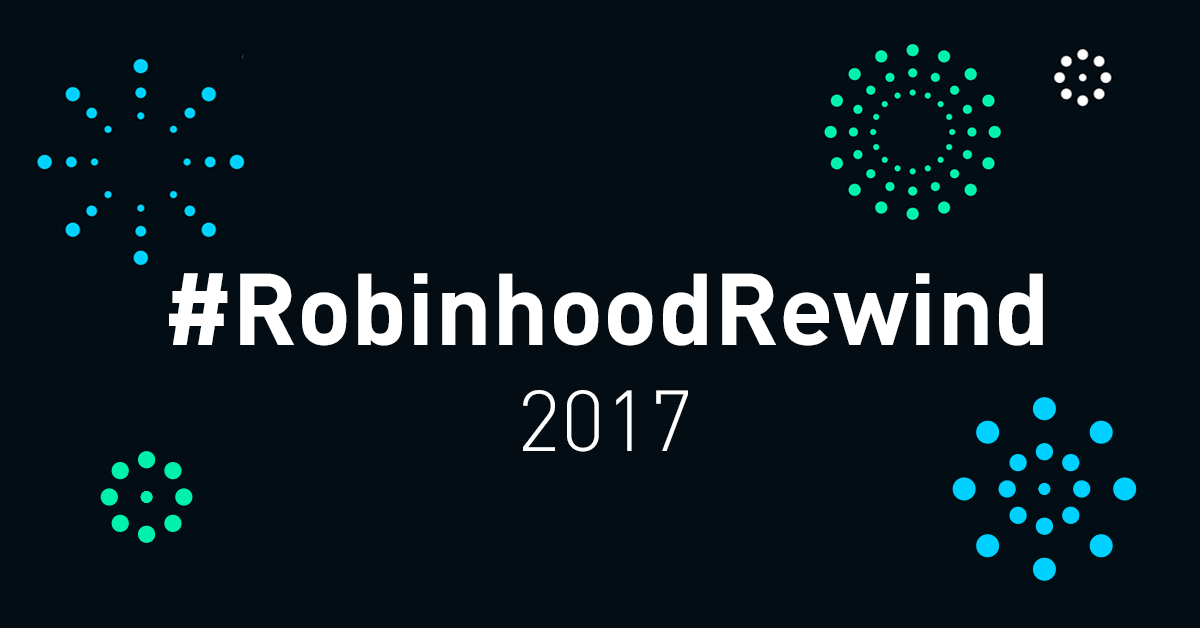 Recapping this year's most exciting trends and milestones on Robinhood
2018 is around the corner so we wanted to celebrate our year together by looking back at the most memorable milestones and trends we saw on Robinhood in 2017. Here are the highlights:
Trends on Robinhood
Top 5 most traded stocks:

Advanced Micro Devices, Fitbit, Snap, GoPro, Ford

Top 5 stocks resulting in the biggest gains:

Amazon, Apple, Facebook, Nvidia, Tesla

Top 5 stocks resulting in the biggest losses:

Advanced Micro Devices, General Electric, Snap, Momo, Rite Aid

Day with the highest trading volume on Robinhood:

November 29, likely due to market volatility related to the Republican Tax Bill

Most searched private companies:

Uber, Spotify, Airbnb, Dropbox, Palantir
Three Million Users: Thanks to your continued support, we now have over three million users on Robinhood, who have transacted over $100 billion in trading volume to date.
Savings on Robinhood: By not taxing you with commission fees, together, we saved over $1 billion since we launched in 2015.  
Options Trading: A few weeks ago, we released commission-free Options Trading on Robinhood. This new, cost-effective investment tool is built for all investors – not just the wealthy.
Very excited to see free options trading is coming soon to @RobinhoodApp. This platform just keeps getting better. If you haven't already, consider investing through Robinhood for an excellent user experience. #Robinhood #investing #UX

— Joseph Brueggen (@josephbrueggen) December 14, 2017
Oh and – free options trades on Robinhood now? Do you have any idea how game changing that is?

— Jason Canales (@TweetToJason) December 18, 2017
Robinhood for Web: In November, we launched Robinhood for Web, a brand-new web platform with interactive research and discovery tools, so you can make better-informed investment decisions. We also introduced Automated Customer Account Transfer Service (ACATS), a portfolio transfer service so you can move outside portfolios to Robinhood.
robinhood's web platform is beautiful, intuitive, informative, and has all the little details right…the best web product i've used in a long time 👏

— James (@jamesfzhang) December 15, 2017
Earnings on Robinhood: In January, we added a new earnings experience, keeping you up to date on earnings reports and letting you listen live to earnings calls.
We're excited for 2018 – stay tuned to see what's coming next.
Happy New Year!
The Robinhood Team