Robinhood's Web3 Wallet Beta is Now Live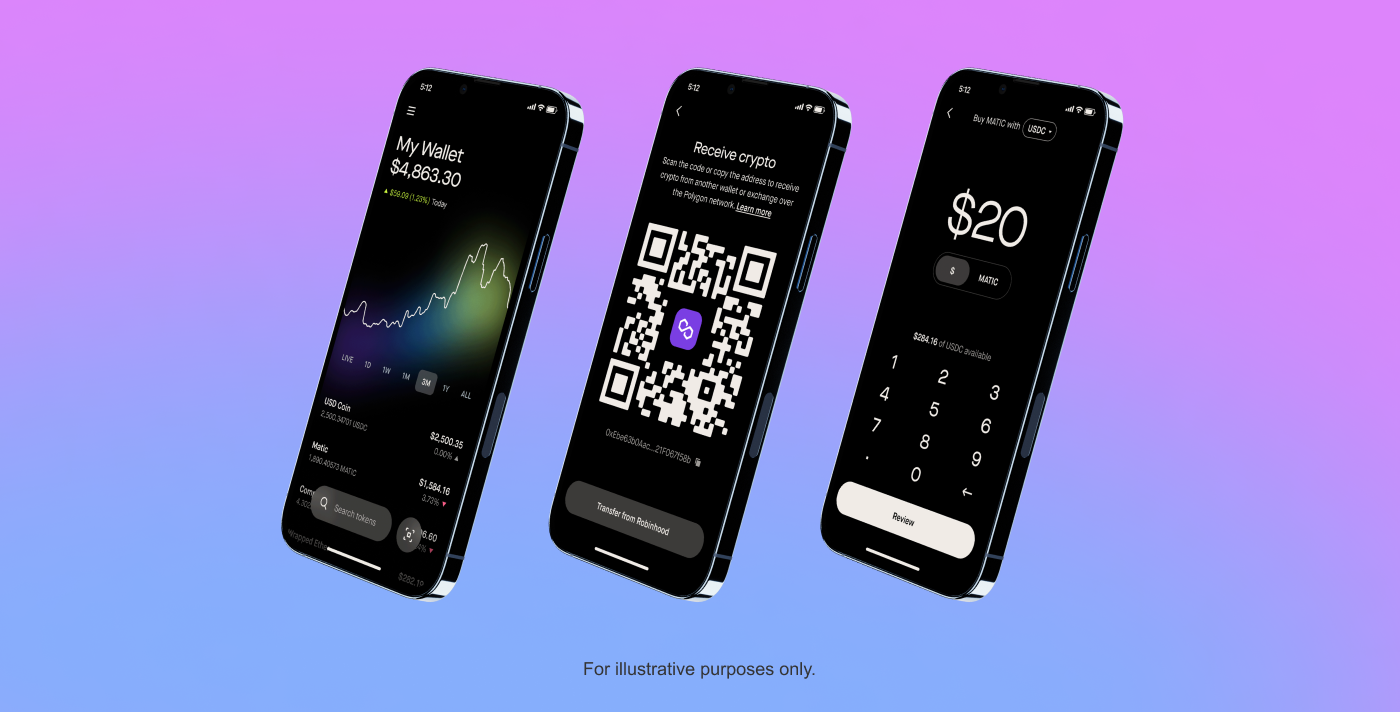 Eligible customers will receive an invitation to the new Robinhood Wallet beta starting today
Today, Robinhood is launching our self-custody, web3 wallet beta to 10,000 iOS customers who joined the waitlist back in May. Officially called Robinhood Wallet, the standalone app will support Polygon as its first blockchain network, give customers total control of their crypto, allow them to trade and swap crypto with no network fees, and let them seamlessly access the decentralized web. This is crypto the Robinhood way.    
"Launching the Robinhood Wallet beta marks a significant step forward in our journey to make Robinhood the most trusted and simple crypto platform for customers," said Johann Kerbrat, Chief Technology Officer and General Manager of Robinhood Crypto. "Like we did with the stock market, Robinhood Wallet strips away some of the complexities of web3 to make crypto more accessible to everyone." 
Robinhood Wallet is an approachable, low-cost standalone app with a simple and accessible design that people have come to expect from Robinhood. We're excited to work with Polygon as the first blockchain network Robinhood Wallet supports. We chose Polygon due to its scalability, speed, low network fees, and robust developer ecosystem to provide one of the best trading experiences for customers. Robinhood also recently rolled out support for deposits and withdrawals on Polygon PoS network so that customers can purchase its native MATIC token on the Robinhood app and seamlessly transfer it over to their self-custody wallet. While Robinhood Wallet is launching exclusively with Polygon, it will eventually be a multichain wallet that supports a wide number of blockchains.
During the beta, participating customers will be able to download the app and use the following features:
Fund your wallet with USDC as the primary fiat-representative token
Trade and swap crypto with no network fees
Earn crypto rewards
Safely store and track your blockchain portfolio
Connect to decentralized apps (dapps) to earn yield
Viewing NFTs and connecting to NFT marketplaces will be supported when Robinhood Wallet is available to the general public, but it is not part of the beta program at this time. 
There are already more than 1 million people on the Robinhood Wallet waitlist globally. Customers who have not already signed up can do so here. We will notify the entire waitlist when the product becomes available to the general public later this year. 
Disclosures: Self-custody cryptocurrency wallet and related services are offered through Robinhood Non-Custodial, Ltd., a limited company organized in the Cayman Islands, and other third-party providers. Availability may be subject to regulatory approval in certain jurisdictions. 
© 2022 Robinhood Non-Custodial, Ltd. Robinhood®. All rights reserved.