Succeeding as a Woman in Tech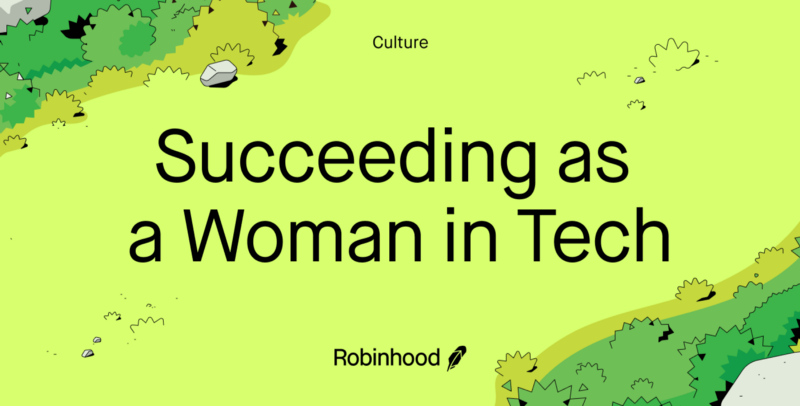 Women in Tech is one of Robinhood's latest Employee Resource Groups (ERG) dedicated to building community for women interested in engineering. We sat down with members of the group, Sanjana Joshi Bhat and Chenyu Yan, to talk about their personal experiences in tech and what they have to say to other women interested in taking the same path.
Sanjana Joshi Bhat (she/her) — Engineering Manager, New York
Chenyu Yan (she/her) — Engineering Manager, Menlo Park
What has been your experience building a career in tech?
Chenyu: After graduating from Carnegie Mellon University with a Master's degree in Computational Design, I joined Pocket Gems as a Software Engineer. For the first three years in my career, I worked very hard to sharpen my engineering skills, including learning new programming languages, working with cloud computing systems, improving performance of data warehouses, and building data ingestion systems. These practices and experiences helped me grow and become a senior software engineer. Then, I took on more responsibilities, designed complex systems, led large projects, built petabyte-scale data pipelines, and helped other engineers grow. With several years of tech lead experience, I was promoted to Staff Engineer, but I thought it was time to start a new adventure, so I joined the Clearing team here at Robinhood! There are a lot of exciting opportunities in such a fast-growing company. My thirst for financial domain knowledge and cutting-edging technologies motivates me to keep learning and growing. I contributed to building streaming data systems and load testing systems, and decided to take on a new challenge — transitioning to be an engineering manager and building a new team. This new Reference Data team is responsible for our mission-critical reference data service. It ingests data from external sources/vendors and provides the source of truth of the current universe of stocks and options to the Robinhood order execution systems. It is the foundation service in the dependency stack for our critical services.
Sanjana: My dad who's an engineer inspired me to be one early on, I enjoyed solving math and physics problems with him. Computer Science was an exciting field at my university. I was also a fan of Pirates of Silicon Valley and I knew I wanted to be in tech right away. Soon after my undergrad, I joined Yahoo as a backend engineer and was fortunate to be surrounded and mentored by some of the smartest engineers, which helped shape my career. I pursued different opportunities and teams at Yahoo, and was able to work on large-scale distributed systems, low latency data ingestion and serving, containerization, machine learning, etc. This helped me become a strong backend engineer, successfully climbing the IC ladder and grew into a tech lead. I was always interested in product strategy & execution, mentoring others, and improving processes which was more of a management track. I switched to an EM role and ended up managing the Yahoo Finance backend and notifications platform teams.
After Yahoo, I joined the Gold team at Robinhood as an EM. The fintech space always excited me and a few years ago I had started my personal investing journey through Robinhood. I was psyched to work for Robinhood building the products that I was passionate about. My team is responsible for Robinhood's premium offering subscription service, Gold, which has over a million subscribers and offers features like larger instant deposits, margin investing, research reports and Level 2 market data. We offer tools to help our customers make informed investment decisions. I enjoy creating, and solving challenging problems, and being in tech has been the right place for me — it's both fulfilling and rewarding.
Throughout your career, what groups, networks or certifications have you pursued to further your experience in your field, and how has that played a role in your journey?
Sanjana: I'm a core member of the Women in Tech (WIT) ERG at Robinhood leading the hiring track, where our goal is to increase the number of women individual contributors and engineering managers across engineering, which is something I deeply care about. Through this initiative, I've been able to connect with other women in the industry interested in pursuing new job opportunities, and share knowledge about career development and leadership. I work with other passionate women leaders in WIT who lead tracks like career advancement and mentorship that inspire me everyday.
Chenyu: The Women in Tech (WIT) group in Robinhood helped me grow in my career. I was able to find a mentor from a mentor-mentee matching program managed by WIT. My mentor is very helpful, experienced and kind. Whenever I have questions, seek suggestions, or find solutions for career growth, I go to my mentor, and I always get support from him. WIT group also hosts talks and presentations to provide women guidance on how to be successful at Robinhood. We had book clubs to talk about our learnings from the book Lean In: Women, Work, and the Will to Lead. We also had talks with female leaders about how to write self-reflection for performance reviews and how to communicate with your manager. In addition, I spent time taking online courses, including Amazon Web Service (AWS) certification preparation courses to become an AWS expert and effective communication courses to improve my communication skills and leadership ability. These courses helped me grow fast and stand out as a high-performing employee.
What career tips or recommendations do you have for other women in tech?
Chenyu:
The most important career tip I have is to find your interest! I spent 7 years learning architecture and found I didn't like it. It is never too late to find your real interests and make it your career. In the tech area, some people like programming, while others may have more passion about product management. Working on things that you feel excited about and you're good at will help you achieve success in your career easier.
Work hard. No matter which industry you work in, working hard to equip yourself with professional skills is fundamental for your career. If you are an engineer, follow engineering best practices, write high quality code, and learn new technologies. These will help you become a qualified engineer as soon as possible. Strong technical fundamentals will help you stand out and shine. You need to make efforts to achieve your career goals.
Proactively seek opportunities. If you want to be promoted, find more impactful projects and contribute to them. If you want to become a manager, look for opportunities to practice management skills and ask your manager for help. Being clear about your career goals and seeking relative opportunities will help you make progress on your career development.
Sanjana:
Find strong advocates and mentors for your career early on. They will help you with growth and keep you focused.
You need to keep up with the world of tech by constantly updating your skills. Learn something new as part of your everyday job or fun side projects or new opportunities. During my time at Yahoo, I moved to different teams periodically which helped to up my skill set. This gave me opportunities to widen my technical knowledge all-around. To name a few: docker, kubernetes, machine learning models for personalization, microservice frameworks, AWS infrastructure, as well as knowledge around leadership.
How has Robinhood played a role in your development and success as a woman in tech?
Sanjana: The inclusive culture, company mission, interesting products and complex engineering problems are all the aspects that excited me to join Robinhood. From my very first day, I was encouraged to create a broader impact beyond my scope — not just be limited to my team but to think about driving impact at the company level. There are multiple ERG groups and Slack channels that allow you to connect with people having similar interests and grow. I joined the Women in Tech ERG on my second day at Robinhood and was able to start adding value immediately by leading the hiring track which I find incredible!! I also got to be a part of a few task forces focused on broader hiring and promotion process improvements.
The company values are inspiring and hold us to the highest standards. First-Principles Thinking has strengthened my mental model and has helped me make rational decisions in my role. I manage the Gold team, Robinhood's subscription service, and we have a super collaborative environment where I am able to contribute to forming a product vision, learn about financial modeling, and participate in research studies beyond engineering. This has holistically helped develop my leadership and product skills. I've been with the company for a few months now and it already feels like I've been here a long time because I am learning so much and creating impact continuously.
Chenyu: Robinhood is a place where your contribution is appreciated, opportunities are provided, and your abilities are improved. Shortly after I joined, I started to work on a project to build a streaming pipeline with Flink for trade comparison. Then I started a project to build the load testing system, where I took more responsibilities including technical design, milestones and timeline planning. I was able to make impactful contributions and improve my leadership skills. Then I applied for the internal Engineer Manager position and passed all the interviews. Robinhood is growing fast and provides opportunities for everyone to learn, grow and achieve career success!
At Robinhood, we're working in a primarily remote environment — can you share a little bit about how that has played a role in your career and personal life?
Chenyu: I love the primarily remote environment at Robinhood! Prior to the COVID-19, everyone went to the office on weekdays. But since 2020, we have been working from home. I joined Robinhood during the pandemic and have been doing daily work, talking with coworkers, and transferring from IC to manager virtually. My teammates are in Menlo Park, Seattle, New York and Boston. Although we are in different time zones, we have been working together pretty well with the collaboration tools used in the company, e.g. Slack, Phabraicater, Coda, Atlassian, etc. Virtual events are also organized to connect us closely with coworkers.
With the primarily remote culture, we have the opportunity to explore other cities and have the choice to decide where we want to live. I moved to Seattle last year, which I never planned before but it turns out that I like it — the summer is pretty here! Working from home saves us a lot of time from commuting so I get more time to meet my friends, develop new hobbies like cooking, and have video calls with my parents who live abroad. I will still go to the office sometime in the future because I want to try the delicious food there!
Sanjana: I had never experienced remote work until the pandemic and it was definitely challenging to start. But it also gave me an opportunity to improve on async style of communication, better documentation, and enforce that with my team. I onboarded with Robinhood remotely and my whole team is based out of NYC currently. Since we are working in a primarily remote environment, I can build my team by hiring smart engineers not just in NYC but anywhere in the US. By having team members spread across different time zones, on-call schedules can be better managed improving work-life balance of the team. Face-to-face communication is still crucial for bonding and culture building, and my team tries to keep video on as much as possible during meetings. We have also done fun virtual events like chocolate tasting, product workshops to connect and build relationships. I've personally enjoyed some of the benefits of remote work by optimizing and carving out time for friends/family and fun hobbies. For example, I have replaced my previous work commute time with something that I really enjoy like an outdoor walk, a pilates class or a video call with my parents.
We are always looking for more individuals who share our commitment to building a diverse team and creating an inclusive environment as we continue in our journey in democratizing finance for all. Check out our open positions — we can't wait to hear from you!
Robinhood Markets Inc. and Medium are separate and unique companies and are not responsible for one another's views or services.
© 2021 Robinhood Markets, Inc.