The Robinhood 24 Hour Market is Here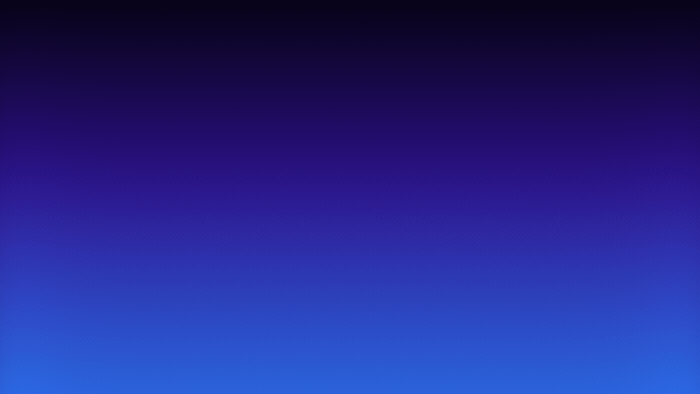 Robinhood is the only US retail brokerage to offer 24/5 trading of single name stocks
September 19th, 2023 Update: People can now place
limit orders
to buy whole shares of 95 ETFs and individual stocks. The full list of symbols can be found
here.
The world never stops, so why should investing be any different? Today we are announcing Robinhood 24 Hour Market, which offers people unprecedented flexibility and access to the markets. Using 24 Hour Market, people can place limit orders to buy whole shares of 43 of the most traded ETFs and individual stocks– such as TSLA, AMZN and AAPL– 24 hours a day, five days a week. 24 Hour Market lets customers invest when they want, on their schedule. Trading hours will run from 8:00 pm ET on Sunday to 8:00 pm ET on Friday.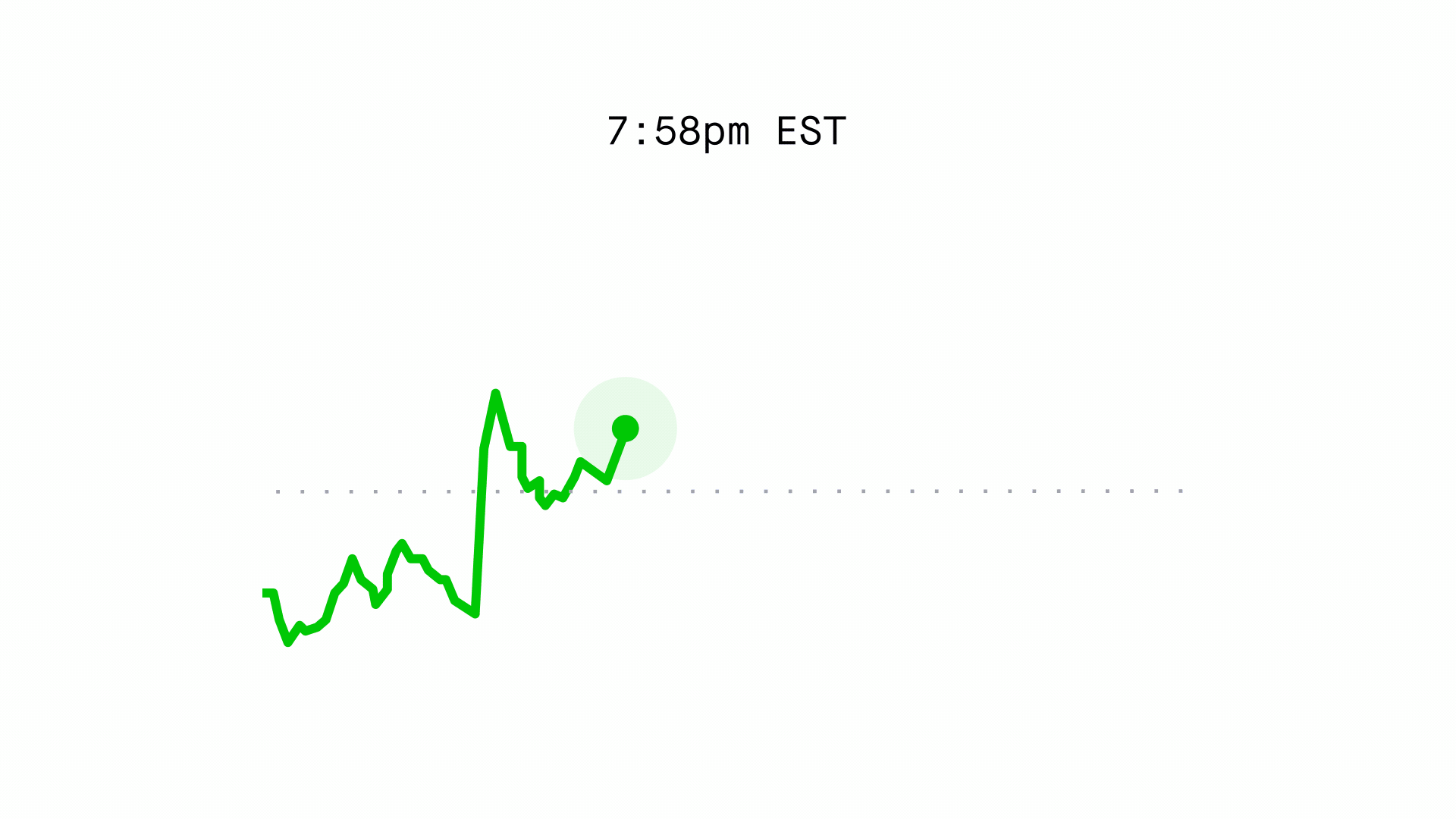 We are relentlessly focused on building products tailored to fit people's lives and make investing more accessible to everyone– not just a select few. We've often heard from customers that it's tough to find time for investing during regular market hours with work, family, and everything in between.
Market-moving news can also break anywhere and at any time. With 24 Hour Market, advanced traders have the flexibility to act in real-time, around the clock, managing their portfolio and adapting to new information, whenever it hits. 24 Hour Market also provides access to research and analysis.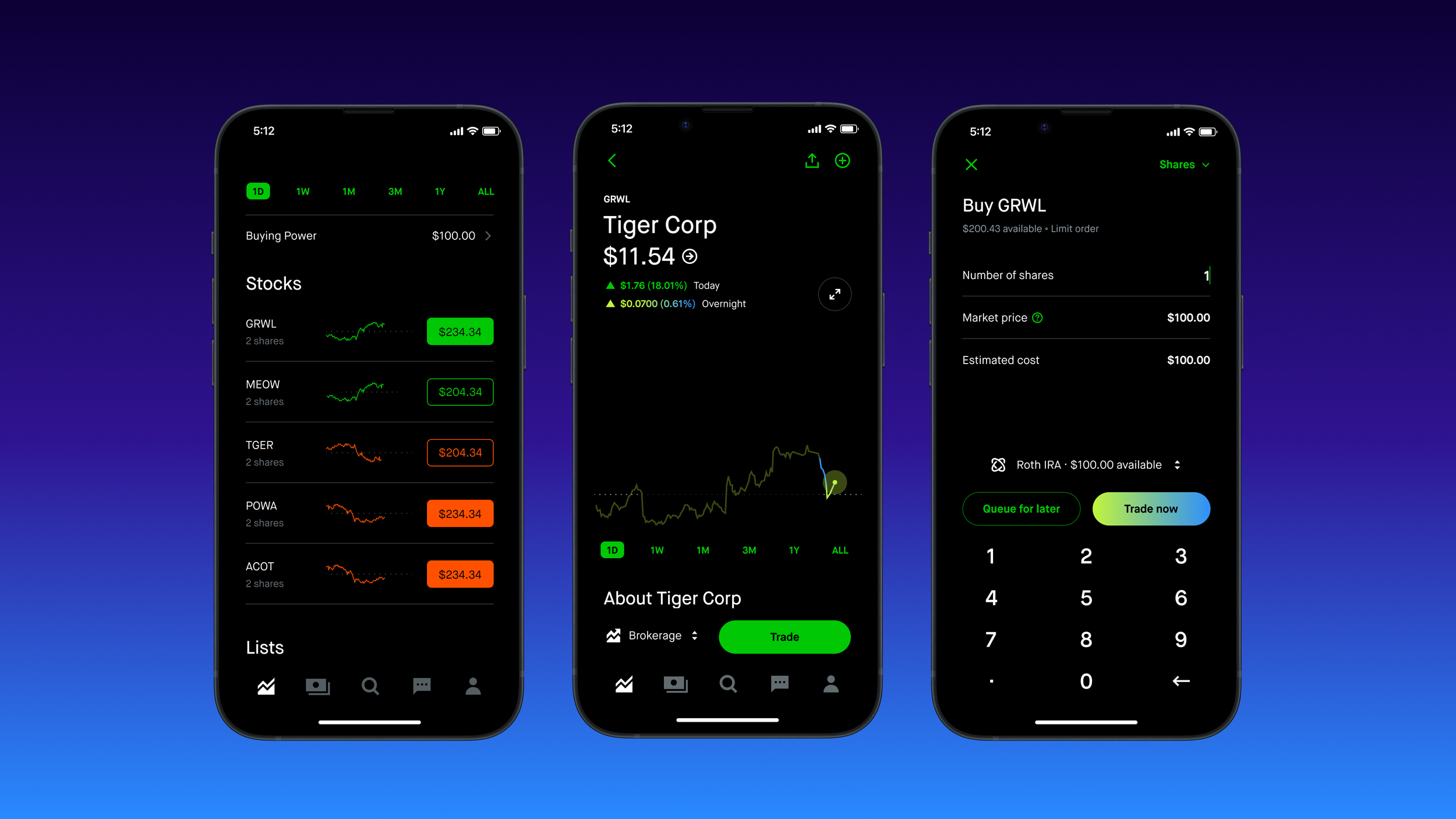 Here's how it works:
Select your stock or ETF. Stocks and ETFs that are tradable 24 hours will be differentiated in-app. A 24 Hour Market List will also show the 43 stocks and ETFs that can be traded. This list includes many of the most popular symbols by trading volume.
Name your price. Customers can place 24 Hour Market orders in the Limit Order flow. As a first step, customers type in the maximum price they would pay for the security – or the minimum price they would sell for.
Set trading hours and time in force. Select the 24 Hour Market trading session and choose when a limit order should be executed by, or expire.
Select number of shares. After selecting how many shares they'd like to buy, traders will see a summary of the order, including the limit price, time in force, and total estimated cost. Swipe to submit, and the trade is made!

Robinhood's 24 Hour Market levels the playing field so extended trading is no longer exclusively reserved for those operating on U.S. East Coast hours. You invest on your time.
We'll start rolling out 24 Hour Market next week, 5/16 to a subset of customers and it will be available to everyone in June. If you don't have the option to try it out right away, you will soon.
Disclosures:
All investments involve risk and loss of principal is possible.
There are additional, unique risks with trading outside of regular market hours you should be aware of before making an investment decision, including the risk of lower liquidity, increased volatility, greater spreads, and pricing uncertainty. Please review the Extended Hours Trading Disclosure for more information concerning these risks.
The specific symbols shown in Robinhood 24 Hour Market promotional materials were selected by choosing the largest stocks by volume of orders placed on the Blue Ocean Alternative Trading System (BOATS) during the overnight trading session (8PM ET – 4AM ET) in the 90-day period ending 3/13/23. This material is informational in nature and does not constitute a solicitation of or a recommendation to buy, sell, or hold a particular security.
Robinhood Financial LLC (member SIPC), is a registered broker dealer. Robinhood Securities, LLC (member SIPC), is a registered broker dealer and provides brokerage clearing services. Cryptocurrency services are offered through an account with Robinhood Crypto, LLC (NMLS ID 1702840). Robinhood Crypto is licensed to engage in virtual currency business activity by the New York State Department of Financial Services. All are subsidiaries of Robinhood Markets, Inc. (Robinhood).

© 2023 Robinhood Markets, Inc. 2898802