The State of Women Investors Today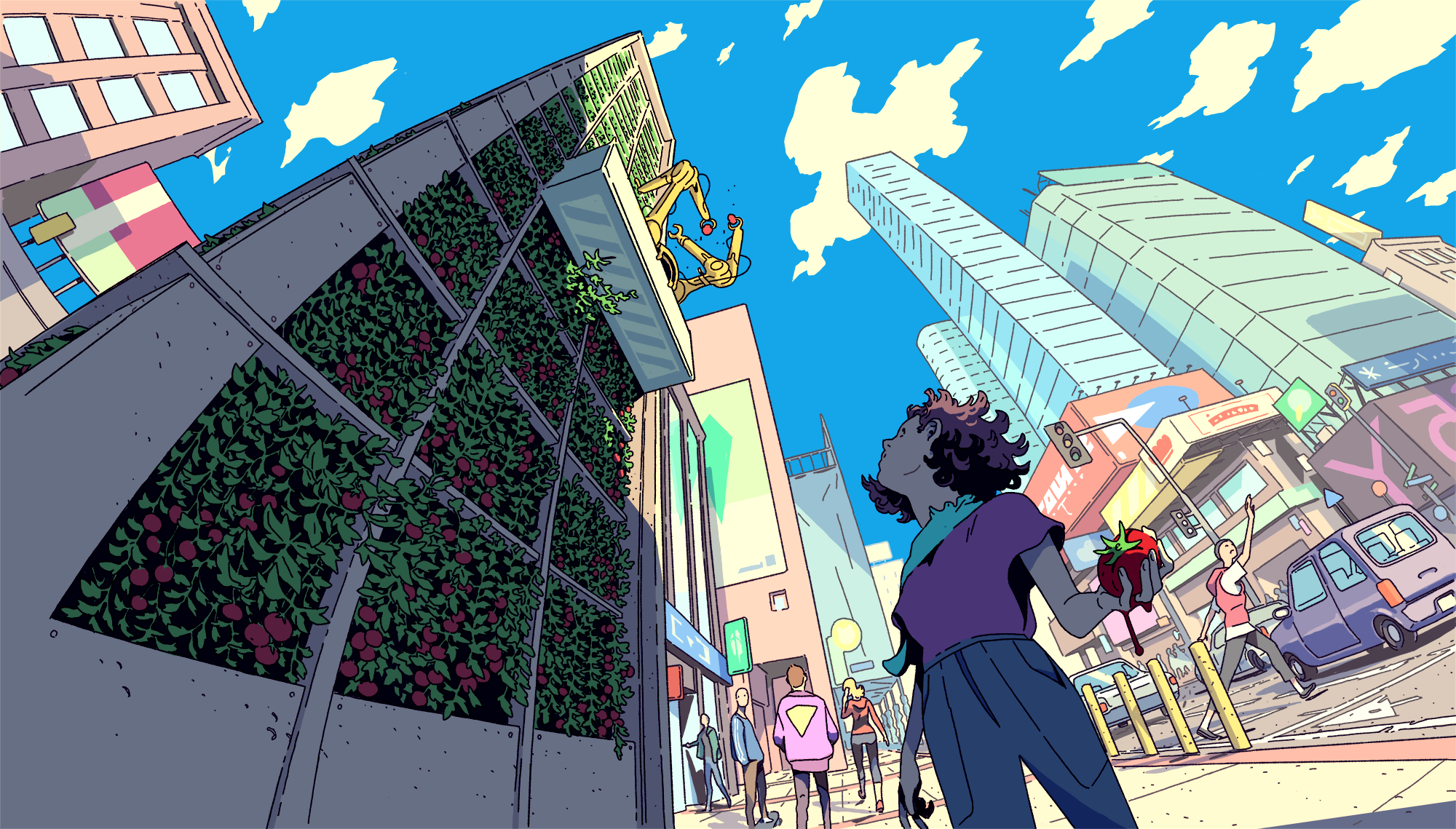 New research reveals a gender gap in investing attitudes and behaviors 
At Robinhood, our mission is to democratize finance for all. We have always aimed to enable people to begin investing in the markets at their own pace and on their own terms. We're delighted to have enabled so many people to take the first step—with investors becoming more diverse over the decade that Robinhood has been available. But there is much more to do.
We conducted a survey* to learn more about women's attitudes, fears, behaviors and goals toward investing. We found that almost half of the women we surveyed (45%) have a favorable view of investing, but there are still barriers that prevent some from participating in the markets.
We want everyone to have the ability to participate, and we're committed to providing the tools and resources needed for people to get hands-on experience, take action, and feel empowered to invest in their future. Let's dive into our research findings. 
Women are taking charge of their financial decisions.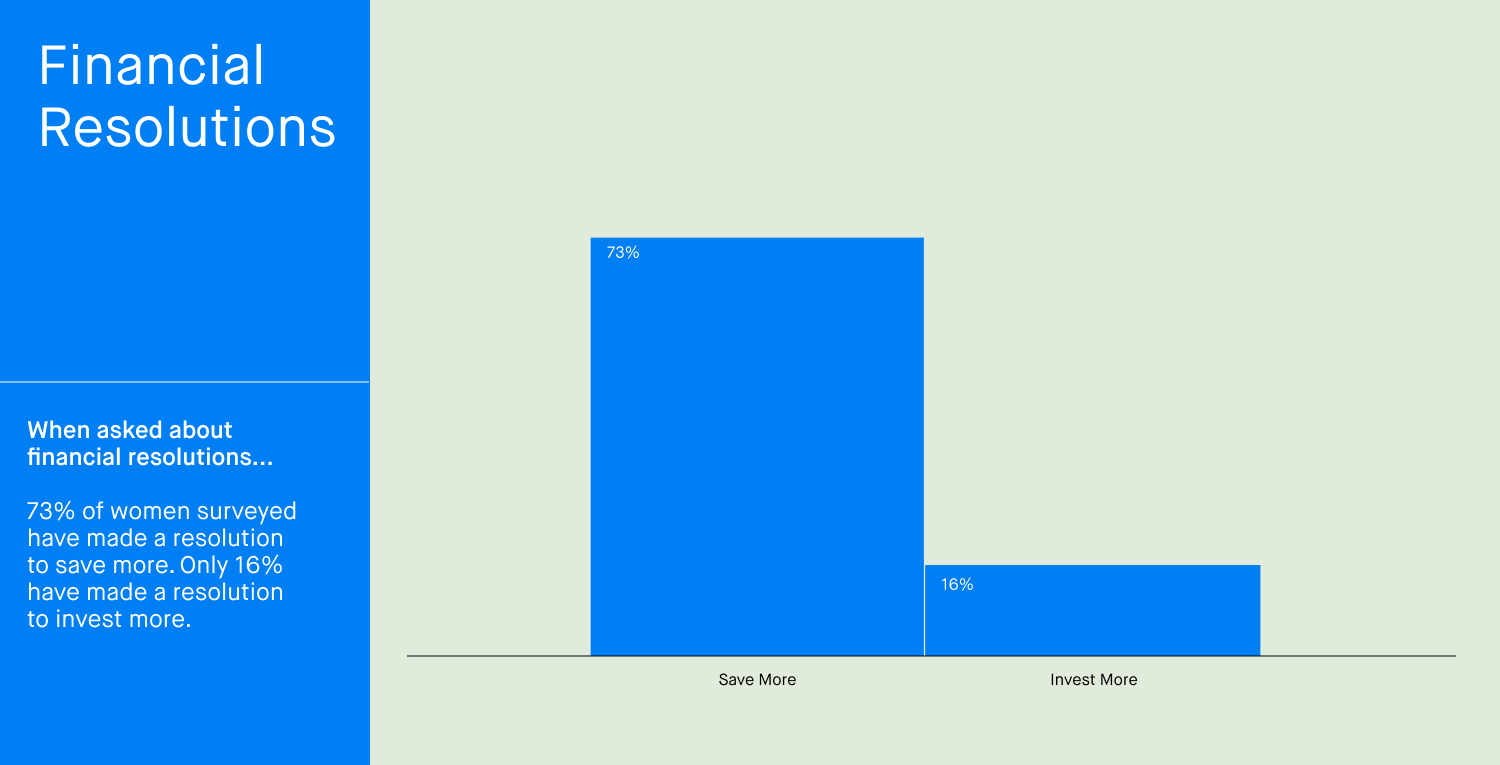 The overwhelming majority of women we surveyed (73%) have made a financial resolution to save more, which points to women wanting to be thoughtful and strategic about their finances.  
However, only 16% have made a resolution to invest more. Investing can be a powerful tool for building and accumulating wealth over time and achieving financial goals. So we looked at the reasons why women aren't looking to invest more:
A strong majority of women surveyed (86%) would worry about losing money if they were to invest. 
52% of female respondents haven't invested because they don't feel they make enough money to invest.
Women respondents also don't feel comfortable investing large amounts of money—56% of them.
Moreover, 29% of women surveyed say their concerns about investing would keep them from investing at all.
We believe there's a huge opportunity to better educate everyone, not only women, on the potential benefits of investing. Financial institutions, investing platforms, and educational content all play a role in this. Robinhood provides some solutions to start small and learn about investing at any point in your financial journey.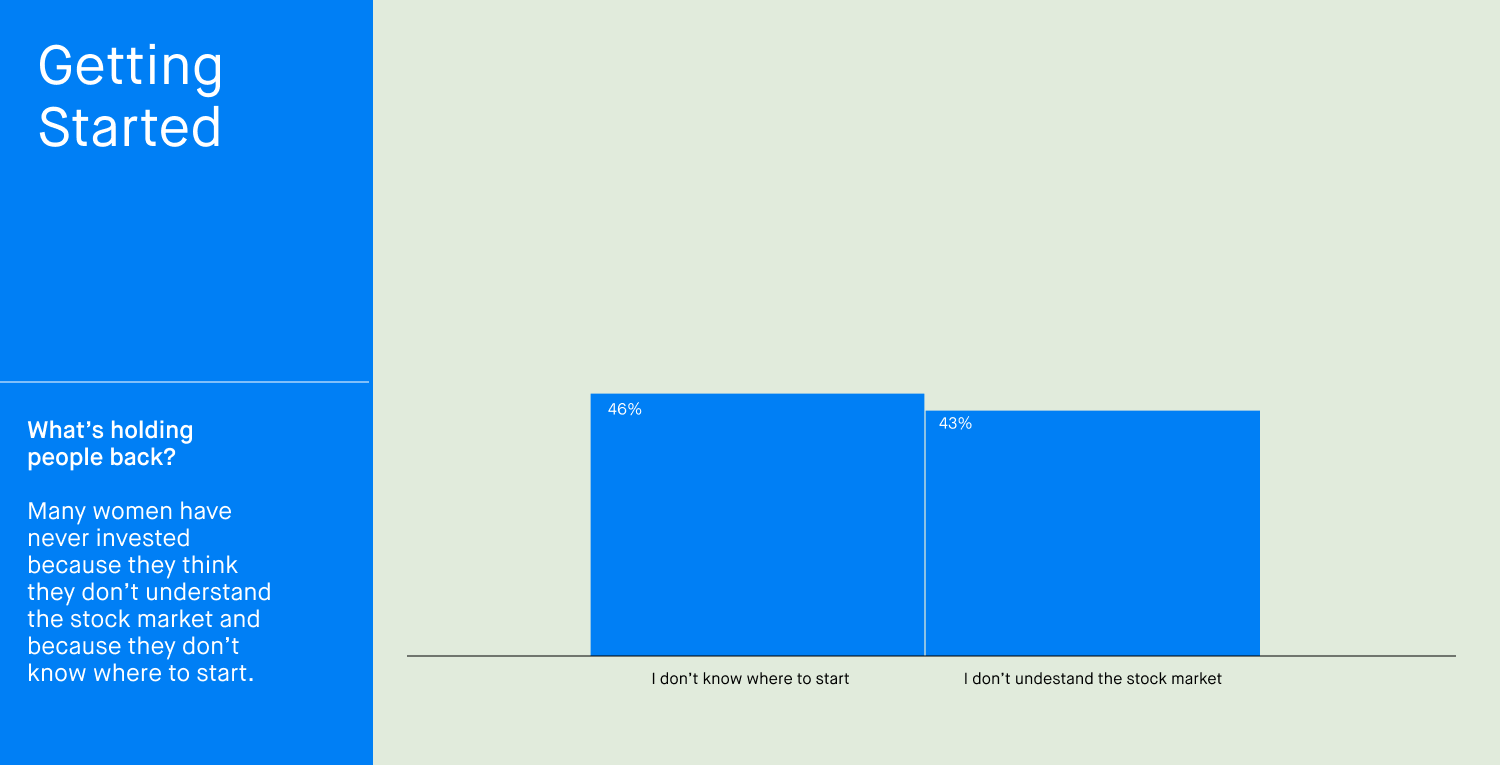 Almost half of the women we surveyed haven't invested because they don't know where to start. Similarly, 43% of women haven't invested because they think they don't understand the stock market. 
We believe this gender gap can be solved in part through a foundation of financial education and hands-on investing experience. At Robinhood, we offer educational resources on the basics of investing and financial terms through our Learn resource hub, and dive into market trends and financial news on our Robinhood Snacks podcast, newsletter, and video series.
We believe more experience leads to more confidence.
According to the survey, nearly half of the women said they don't believe they have what it takes to be a strong investor. Only 28% of women feel empowered to invest and 33% of women are confident in their ability to invest their money.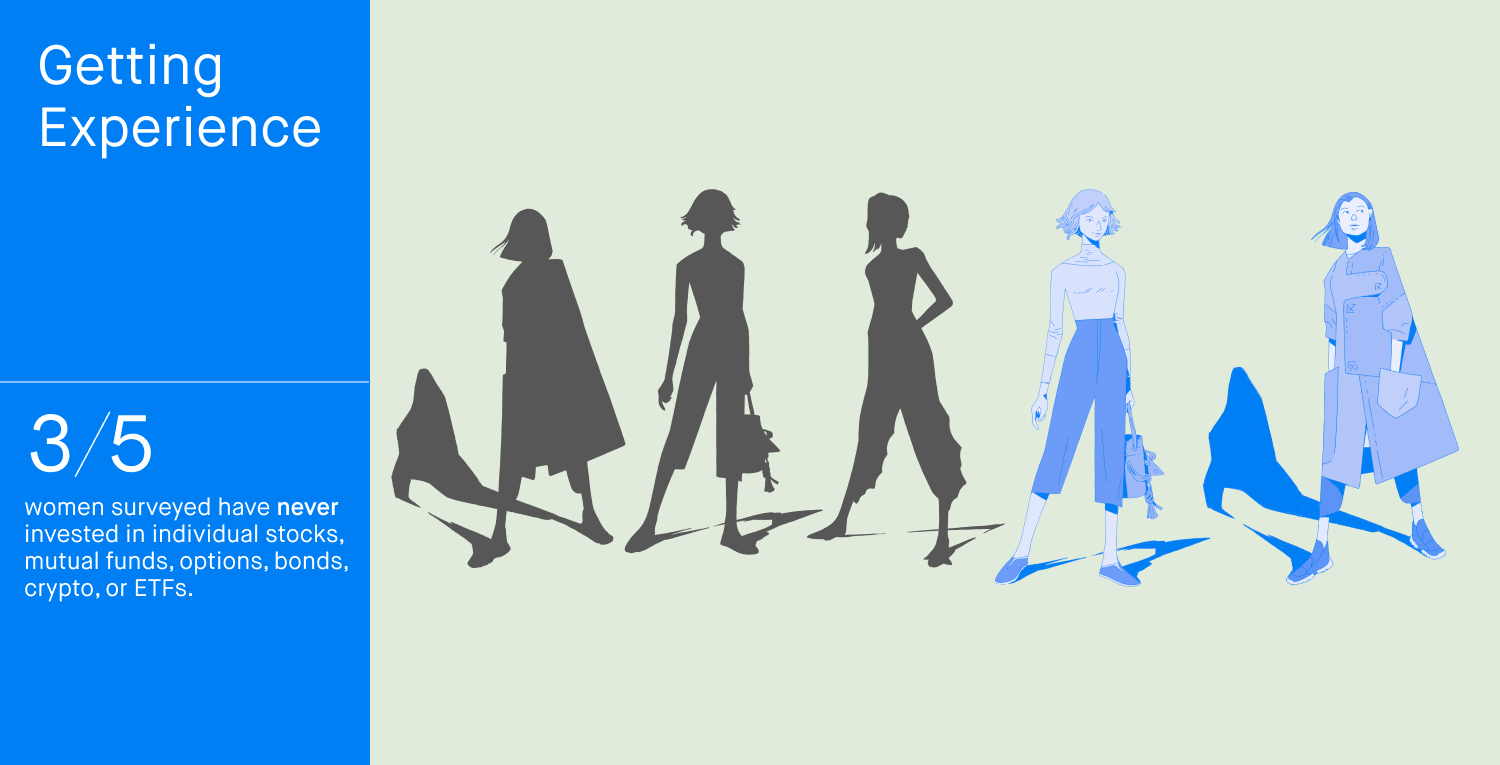 We believe hands-on experience could change these perceptions. While many women are interested in investing and view it favorably, fewer are getting direct experience investing. 3 out 5 of women we surveyed (60%) have never invested in individual stocks, mutual funds, options, bonds, crypto, or ETFs. 
You can start small and learn as you go. For example, with Robinhood's Fractional Shares, you can invest with as little as $1. Recurring Investments can help you build investing habits over time, and we found that the most common recurring amount our customers set up is just $10. 
Let's change the conversation.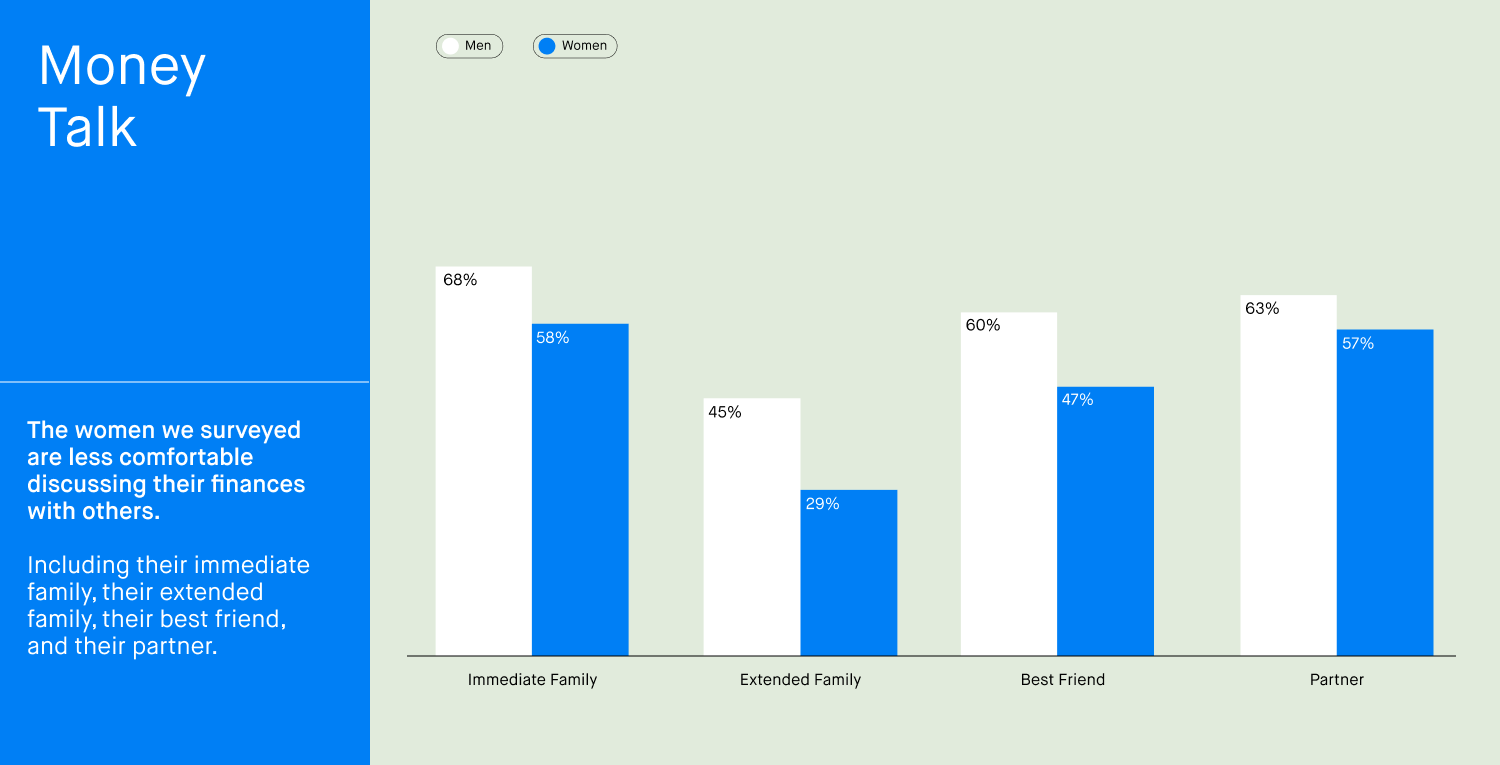 Men are more comfortable trading knowledge and discussing their finances with others than the women we surveyed. Men are more likely than women to talk about finances with their immediate family, extended family, best friends, and partners. 
Discussions around finances with our loved ones can certainly help build financial confidence. Robinhood and other platforms can facilitate these conversations between all types of investors to help everyone prioritize their financial wellbeing.
Where do we go from here?
We believe women's hesitation to participate and level of confidence reflects larger systemic issues that have been at play for decades: the gender pay gap, different cultural expectations, and the perception that investing tools and resources aren't made or accessible for women. We're determined to make investing accessible for all, and we're here to provide the tools and resources people need to find a place in financial markets. 
*Survey Methodology: This poll was conducted between September 28-29, 2020 among a national sample of 2,200 Adults in the United States. The interviews were conducted online and the data were weighed to approximate a target sample of Adults based on Age, educational attainment, gender, race and region. Results from the full survey have a margin of error of plus or minus 2 percentage points.
Recurring investments do not ensure a profit or guarantee against loss. Recurring investments may result in a purchase of fractional shares. Fractional shares are illiquid outside of Robinhood and not transferable. Not all investments available through Robinhood are eligible for recurring investments or fractional share orders.
Securities trading offered through Robinhood Financial LLC, a registered broker-dealer and Member SIPC, and a subsidiary of Robinhood Markets, Inc.