The top secret Robinhood design story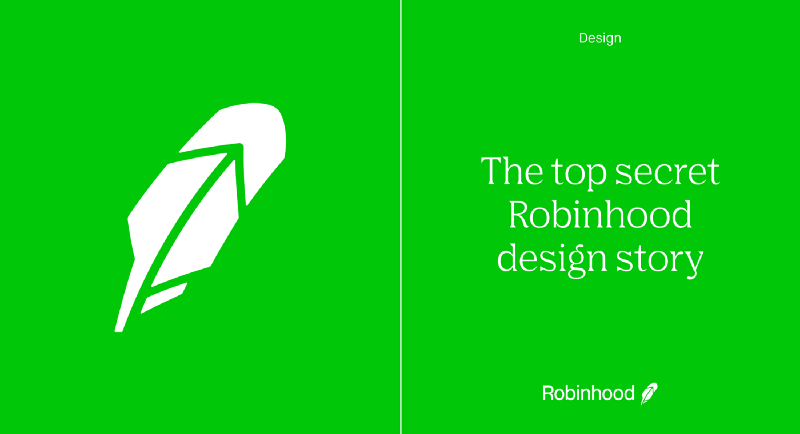 Since the day we founded Robinhood eight years ago, we envisioned building a product so simple and elegant that it would revolutionize an entire industry. We did so not only because we love beautiful design, but because the digital platforms of other brokerages have for years reinforced legacy barriers to participating in the U.S. financial system.
We believed we could change that.
Our customer-centric, design-first approach has been a hallmark of Robinhood ever since. It has made our platform approachable, easy-to-use, and informative, with a familiar look and feel for a generation of mobile-first customers.
"It is one of the things that we really love. It is one of our passions," our co-founder Baiju Bhatt told Harry Stebbings in describing our design philosophy in a 2016 podcast interview. Baiju noted that the average Robinhood investor is considerably younger and more tech-savvy than customers of other traditional brokerages. They deserve a modern app that caters to their needs.
From the get-go, in 2013, we focused on simplicity. All you had to do was step foot into an old brokerage branch or visit one of their web sites to see why so many people felt unwelcome. Everything about these companies reeked of a system designed for the 1%, with complicated, confusing and often intimidating user interfaces. The opportunity to upend an industry and open the U.S. financial system to millions of people lied in building an app not only free of trading commissions and account minimums, but also free of the barriers within the stodgy, poorly-designed websites of financial institutions.
We knew a simple, delightfully designed mobile platform would set us apart.
"When you look at the traditional financial brokerage account, there's a lot being communicated there that isn't in writing. Whether it's the landing page or the product itself, the design can feel very alienating to customers," Alex Bond, a product design manager at Robinhood, told 99U in a 2018 interview. "At Robinhood, we're conscious that design, beyond the words, communicates who a product is for. We're focused on design that's friendly, that's inviting, that doesn't intimidate you, that isn't condescending."
We have always focused on including information in Robinhood that would be useful for investors. We involve our talented product designers early and often throughout our product development process to create intuitive and elegant experiences, addressing our customers' needs, while eliminating the barriers that have traditionally gotten in their way. And as we introduced more features, including news, charts and watchlists, we have stayed true to our design philosophy to make investing and information accessible without alienating anyone. Simple, insightful and usable.
Our bare bones approach was so embedded in the fabric of our philosophy that we didn't even add the option of notifications for customers (beyond service-related notifications) until 2016. Even now, our opt-in notifications are designed to keep people informed about their transactions (such as order confirmations) and alert them about important account activity (such as major price movements and earnings announcements). Unlike social media notifications, Robinhood does not require a customer to open the app to access the notification content. These notifications weren't designed to prompt engagement — that would be an artificial barrier. They are merely informational.
Changing the way an industry thinks is never easy. Big, wealthy financial institutions have always rallied around keeping things the way they are. But slowly, companies have realized that, purely for their own survival, they better catch up.
Imitation is the greatest form of flattery.
So we welcomed incumbent brokerage companies in 2019 following our lead in ending trading commissions. And we weren't surprised when they started to modernize their own designs, adding elements of color, notifications and even confetti to their platforms (yes, believe it or not, other major traditional brokerages use confetti as a design feature. We have removed it.)
Nothing makes us more proud than hearing from customers about their love for our design. We're also proud to have been recognized through prominent design awards. In 2015, not long after we launched publicly, Robinhood's iOS app won the coveted Apple Design Award for our "clean, content-centric design, and beautiful typography that nicely balances app branding and iOS design conventions." In 2016, we won the Google Play Award for Best Use of Material Design.
Our goal has always been to present the most relevant, useful information to our customers as clearly as possible, so that they can make informed investment decisions on their own terms. In 2020, we updated the Robinhood brand and product with fresh colors and typography that continue to deliver a contemporary product that looks and behaves cleanly and meets our customers' high expectations for design.
We want to demystify the investing experience. We make our app simple, clean, and clear so that our customers can make informed decisions about how to manage their assets. It's that, well, simple.
Investing is risky. Other fees may apply. View our fee schedule at rbnhd.co/fees to learn more. Robinhood Financial LLC is a registered broker dealer (member SIPC). Robinhood Securities, LLC (member SIPC), provides brokerage clearing services. Robinhood Crypto, LLC provides crypto currency trading. All are subsidiaries of Robinhood Markets, Inc. ('Robinhood').
Robinhood and Medium are separate and unique companies and are not responsible for one another's views or services.