Welcome to Sherwood Forest!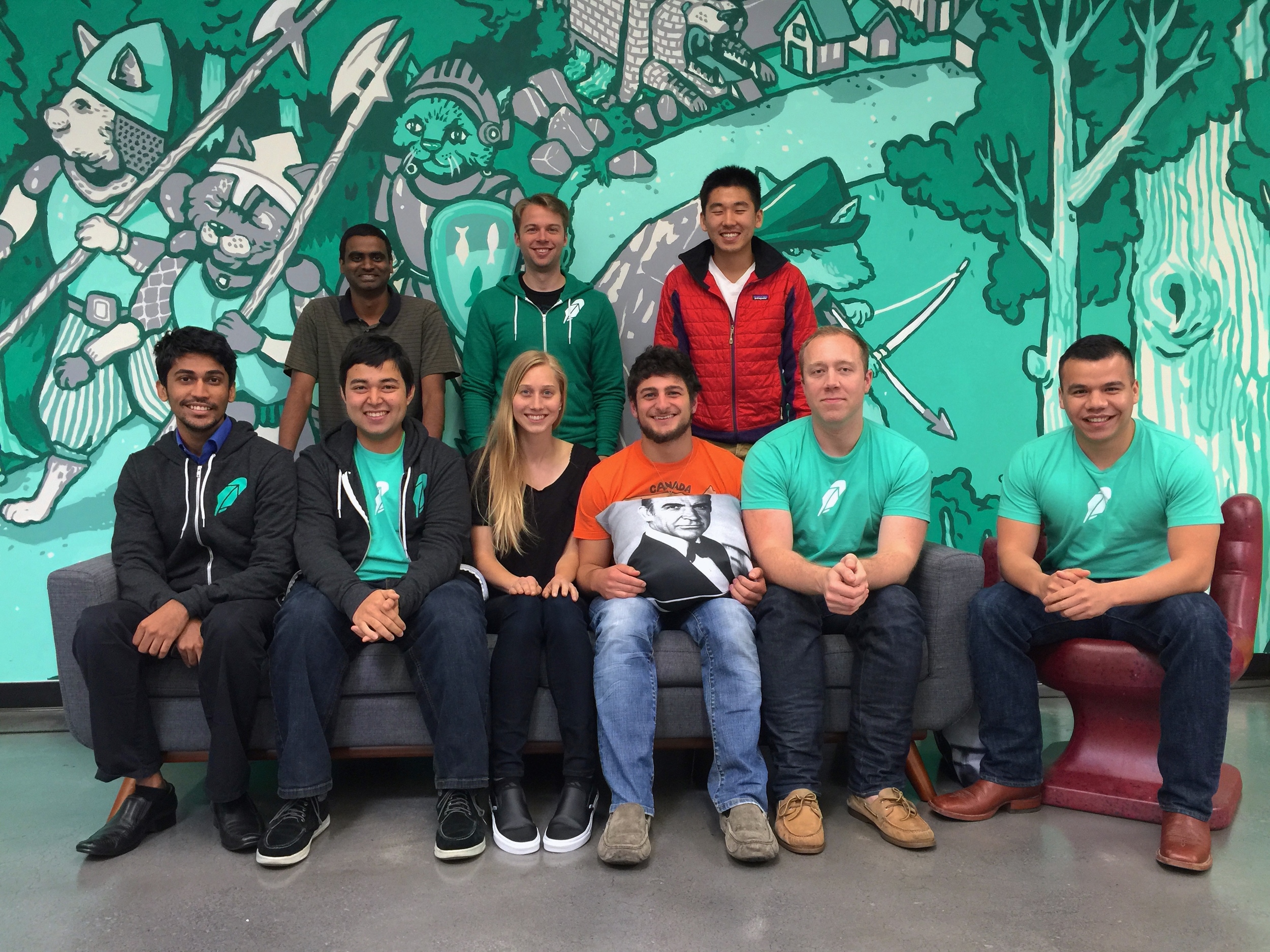 There are plenty of new faces here at Sherwood Forest, Robinhood's humble home in sunny Palo Alto, CA. Since January, nine brilliant humans have joined our team and more are joining soon. They come from places like Pandora, Fitbit, Lightspeed Trading, Tumblr, and TD Ameritrade.
Aravind runs operations engineering at Robinhood. He brings extensive ops and systems experience from Tumblr, StumbleUpon, and Mozilla. Aravind makes sure deployment is a breeze, and that our bits are moving around reliably.
Previously on the Android team at Pandora, Dan is leading the development of Robinhood's Android experience, launching this year. This might be obvious from the six Android devices that rest on his desk.
Curran recently joined our backend engineering team after completing his M.S. at Stanford. He spent summers at Facebook and Salesforce, and conducted research on neural nets and microfluidics.
Hailing from Fitbit, Hannah brings a passion for the customer experience to Robinhood's Client Services team. She's working on her Ripstik skills — a Robinhood rite of passage.
Scott joined our Brokerage Operations team from Lightspeed Trading in NYC. He takes great pride in ringing our bell at market close, and holds the Robinhood record for fastest employee onboarding.
After recently graduating from Michigan and interning at 8Tracks and Amazon, Chris joined our iOS team. He wore a Robin Hood cap with a feather on his first day of work.
Michael joined our brokerage ops team from the Margin Risk department at TD Ameritrade. He brings a deep knowledge of the brokerage business and delights our customers with his Texas charm.
Hongxia joined us full-time after completing his M.S. at Stanford. He is the proud recipient of our "most experienced new grad" award, having interned at Google X, Asana, Palantir, and twice at Microsoft.
Our most recent engineering hire, Arpan, built Zaraya, the first-ever course management platform for Indian colleges. Not to be outdone by his roommate Hongxia, Arpan held internships at Google, Fitbit, Microsoft, and Tesla while completing his B.S. and M.S. at Stanford.
Olympia is starting soon at Robinhood as our new office manager. She joins us from TuneIn, and brings an eye for design and a passion for the employee experience. We're excited for her to help create an amazing working environment for our growing team.
Ask Solem is the creator of Celery, a hugely popular distributed task queue that powers Instagram, Pinterest, and of course, Robinhood. With over a decade of engineering experience at companies like Pivotal Labs, VMWare, and Opera, we look forward to having him join us full-time soon.
If you like what we're up to and want to join our team, check out our openings! We're hiring Software Engineers (Android, iOS, Web, Backend), Designers, and a Compliance Analyst.
Cheers!
Robinhood