WenWallets? Goodbye Alpha, Hello Beta
In September, we announced that crypto wallets are officially coming to Robinhood—allowing customers to not only trade, but send and receive crypto using the Robinhood app. 
We'd long heard "Wen Wallets" echo across the internet, but even we were surprised by just how excited our customers are for wallets. We saw 1 million waitlist sign ups in less than 30 days, and as of today, more than 1.6 million people have signed up for wallets. 
While we're eager to roll-out new products as quickly as possible, building wallets and connecting our millions of customers "on-chain" (connecting with the blockchain) is a big undertaking. We take this responsibility seriously, which is why we're rolling out wallets methodically, and with Safety First in mind.
Alpha Program Wrapped Up 
Customer feedback is essential to how we build at Robinhood. Through our Alpha program, we sought feedback from a tight-knit group of customers from our wallets waitlist. They tested our first iteration of crypto wallets and shared detailed design and functionality feedback with our team to help us deliver a top-notch experience.
Here are some of the top themes based on the feedback we've received from our Alpha testers, along with a survey of customers on our waitlist: 
Deliver a distinctly Robinhood experience
Our customer-centric, design-first approach has been a hallmark of Robinhood since we started. Even though wallets offer a new experience with a different asset class, the Alpha testers wanted it to feel familiar, and that's what we'll deliver.
Help them learn more about crypto  
Our customers want us to be upfront with educational content and help them stay informed about the process of moving their crypto. They requested signposting and explanations of terms like "network fees" and "transaction ID." As customers learn the ropes, they can rely on our Robinhood Learn articles, which we'll expand with more crypto articles, and 24/7 phone support should they run into any issues.
One wallet or many wallets? 
Our survey showed us that expectations differed based on experience – 66% of customers that don't currently have a crypto wallet expect to have one address for all their transactions. This is not the case, as each network will have a different address to send & receive coins when conducting on-chain, so each coin will have its own wallet address. 
Security is top of mind 
…not only for Robinhood, but for our customers who relayed this in the Alpha program. As part of launching wallets, we will be rolling out some additional security features for crypto transactions. These include multi-factor authentication in-app, so we know it's you when you initiate a transfer, and transaction checks to better understand the risk of where coins are being sent.
Clarity on network/gas fees 
As always, crypto trading on Robinhood will remain commission-free, but transacting on-chain typically requires a network fee, which is decided by the network and can fluctuate based on a number of factors, including the current demand for each network. Alpha testers want that information at the time of transfer in a simple and understandable way.  
During Alpha, we made our first transfer: Moving some DOGE to an external wallet which you can see below: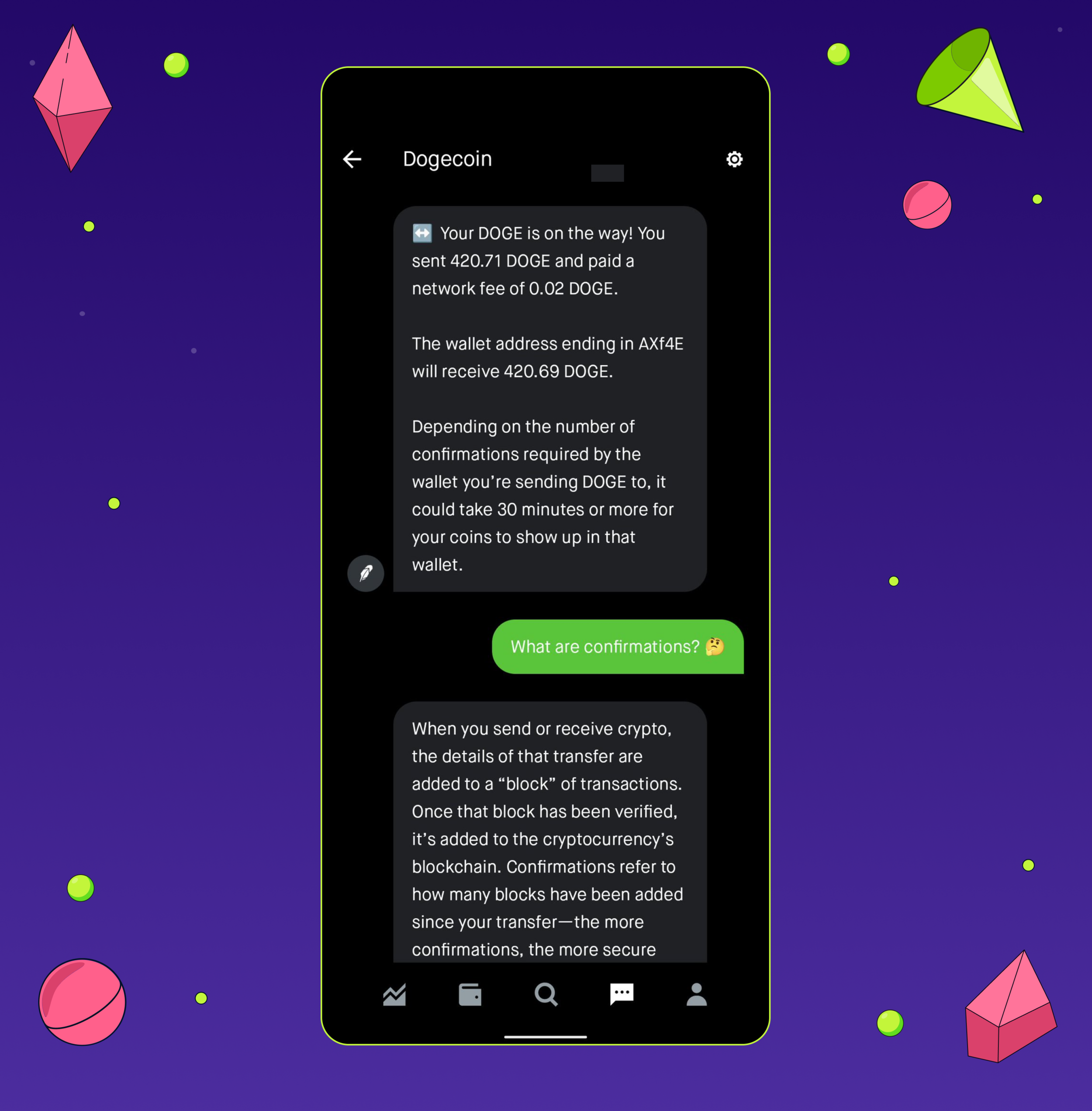 While some say 2021 is the year that crypto went mainstream, the truth is that most people are still familiarizing themselves with the asset class and how to navigate the blockchain. With the launch of wallets, we're thrilled to play a significant role in welcoming a broad range of investors to the cryptosphere for the very first time.
Launching our Beta 
In mid-January, we will launch the wallets Beta phase, which will roll out to thousands of customers from the waitlist. We will be sharing more information on the Beta program in the coming weeks. 
You can join the waitlist today at wenwallets.com. Not a Robinhood customer yet? Sign up here.