Winding Career Paths: How You Got to Robinhood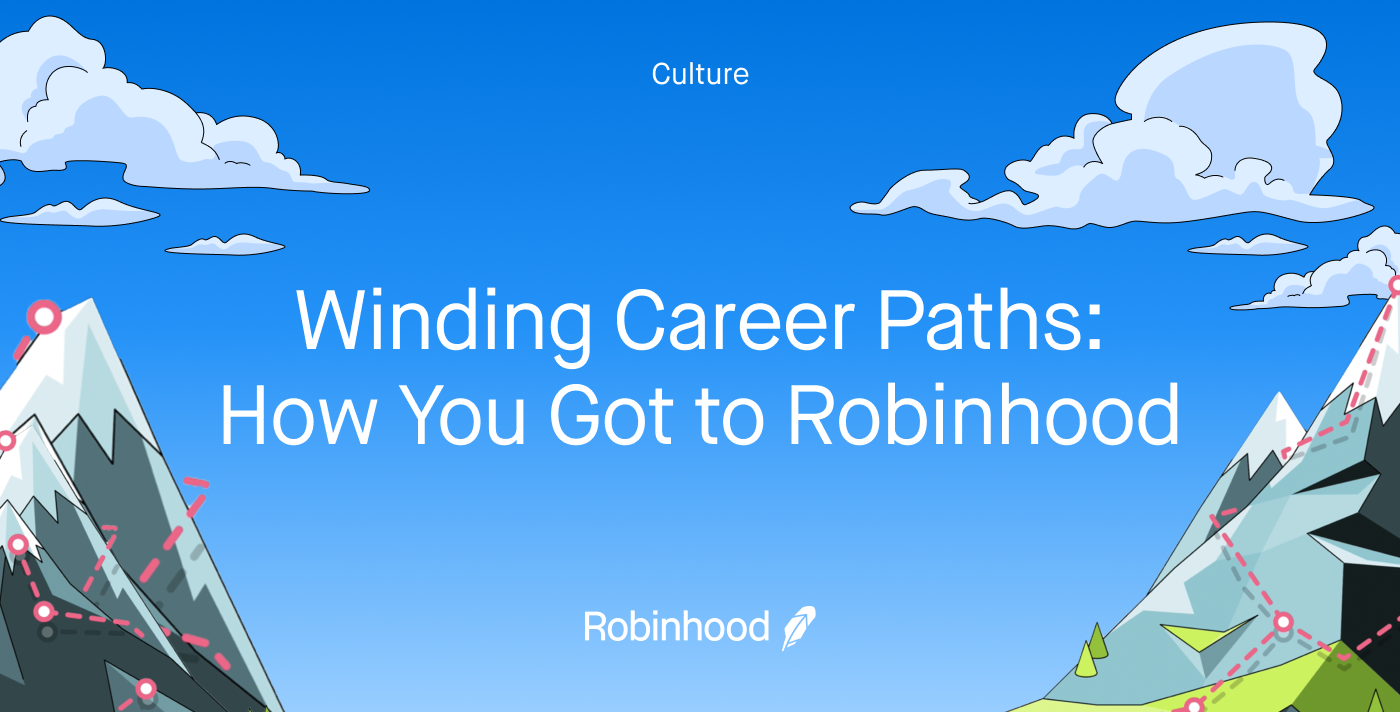 Robinhood was founded on a simple idea: that our financial markets should be accessible to all. With customers at the heart of our decisions, Robinhood is lowering barriers and providing greater access to financial information and investing. Together, we are building products and services that help create a financial system everyone can participate in.
…
Career paths are rarely linear and, for designers, researchers, and artists, figuring out where you fit in the working world can take years. This is true for many Robinhoodies, who have found practical applications for their skills in the world of investments and personal finance by helping visualize and conceptualize how information is shared.
To understand what these paths might look like, we spoke with 3 Robinhoodies working on the Design, Creative, & Research teams to map where their careers started. Ranging from professional baseball to community-based nonprofits, Kate Vogt (Product Design Manager), Joris Drayer (User Experience Researcher), and Allie Sullberg (Illustrator) share how their multifaceted talents brought them to their current roles.
If you're hoping to understand how you might fit into Robinhood, take it from these three: the journey can be winding and unexpected, but it can be rewarding all the same. All it takes is a bit of curiosity and drive!
What did you want to be when you grew up?
Kate: Initially, a dancer or intelligence analyst! But when I went to college, I fell in love with Human-Computer Interaction (HCI) and Information Systems — how technology could impact so many people for the better.
Joris: I went through college as a communications major who probably wanted to study business. I got a summer internship in marketing with the Oakland A's and, after 2 years as a marketing intern, I realized that my ideal baseball career would be focused more on scouting, player development, and game strategy. I angled to work in baseball operations and got a seasonal job a year later working with the same crew that was featured in Moneyball. We were challenging long-held baseball truths and adjusting our strategy based on the data, both on the field and off. I was certain this was going to be my career!
Allie: I wanted to be an artist for as long as I can remember. My parents are both creative and my grandfather was a painter, so it has always been a part of our family and an accepted and encouraged career path. My perception of what it could look like to be an artist was pretty limited though; I thought the two options were to be a fine artist or design magazines. I landed somewhere in the middle as an editorial illustrator!
Where did you start your career?
Kate: Coming out of college, I was unsure about what to do with my Information Systems degree, so I took a job at a large bank as a data warehousing analyst. The job was great for developing requirements and analysis skills, but I somehow knew that UX was where my heart was. After some networking, I jumped into a UX team in my office, where I conducted some user research studies. After just a few months, my feelings about UX were confirmed and I knew that I had to continue pursuing that path.
Joris: After 2 years in baseball operations with the A's, I realized that the quantitative approach to baseball that the A's and many other teams were starting to take meant that I needed stronger tools to stand out. So I went back for my PhD where I studied both Sports Administration and Applied Statistics and Research Methods. Being an academic gave me the freedom to pursue a variety of questions I had about how the world worked and the tools to explore them in creative ways. But tenure is considered, by many, to be the pinnacle of success as an academic. At 35 years old, I still longed for more and at 40 years old, I felt I had to make a choice: stay on my academic path (for the next 25 years!) or pursue something new.
Allie: After college, I wanted to be a designer, but I hadn't learned how to use essential programs like Adobe Illustrator, Photoshop, and Figma. I felt like my technical skills were so far behind that the world of agencies and in-house design felt out of my league. I started a nonprofit when I was in college to collect art supplies for kids and after-school programs and interned at a couple of other nonprofits. I decided to stick with what I knew and became a communications manager for a nonprofit, where I did a lot of designing, outreach, and event planning as part of the development team.
Was there a leap or pivotal shift in your career?
Kate: I took the leap and enrolled in a Master's program in HCI at Carnegie Mellon, where I studied technology, cognitive science, research methods, and foundational design skills. I intended to become a user researcher, but after taking some design classes, I began to realize that the design part of UX — where I could "own" the end product and how everyday users interacted with it — was where I got my greatest satisfaction.
Joris: I was proud to have earned tenure as a professor but one thing was missing: I wanted my research to have a real, tangible impact. So I began the process of pursuing a major career switch. Within my consulting work, I had done some user research and knew I could make a difference. The challenge was convincing others that a 14-year academic whose theory-focused research on sports marketing and analytics could successfully operate in the fast-paced and results-oriented world of tech/fintech. I took classes, did more design-focused consulting work, read every online UX Research book and article I could find, and started networking like crazy. I interviewed at dozens of tech companies but I stuck with it, and I'm forever grateful to Robinhood for considering me even though my background was non-traditional.
Allie: When COVID-19 hit, I found myself with much more free time before and after work and started drawing more than I ever had. My dream of being an artist and illustrator became more and more prominent and it felt like a good time to make my dream a reality. I took a leap of faith and quit my job to become an illustrator. I had little professional illustration experience but built my portfolio piece by piece, starting with very small commissions and working my way up. I fell in love with editorial illustration, a job that I didn't even know existed a couple of years prior.
What's next for you?
Kate: About a year into Robinhood, I began to seriously consider the individual contributor versus management career tracks. Both roles are valued equally at Robinhood, so it's nice that you don't have to be a manager to have a bigger title or more compensation. I've always been curious about trying out management. I was interested in helping other people build their careers, creating great design teams, and influencing strategy at broader levels. Lucky with timing, a role opened up on our team. It is a skill to shift from owning the work yourself to influencing the work of others, at a larger scale. It's been a fun challenge to bring my design perspective to a different angle and then coach others through building their careers.
Joris: In a little over two years, I've gone from being the researcher on our Margin product to now being the Research Lead across our Equities pillar and our international expansion! I love the work and get such satisfaction out of seeing my work make a real difference in both product design and strategy. One of the unexpected things I love about this work is the opportunity to learn! I'm learning so much every single day from both my fellow researchers as well as from the amazing group of designers, content designers, data scientists, engineers, product managers, and so many others. Right now, I'm happy to continue to learn and grow as an individual contributor. However, I've realized that I also aspire to become a people manager at some point in my career. Robinhood provided access to a career coach for me which I've used to start preparing myself for that opportunity.

Allie: I feel fortunate that the creative team at Robinhood values people with diverse backgrounds and skills. It's been a great lesson that there isn't just one way to reach your dream. If you pursue what you're passionate about, work hard at it, and share your passion with others, there's a good chance they'll want to work with you. I hope to continue building my conceptual skills as an artist and art director, being aware of when my current role is no longer serving my goals, and not being afraid to make changes. These have been the most empowering and interesting moments of my career and I'm grateful my path has been winding!

…
We are always looking for more individuals who share our commitment to building a diverse team and creating an inclusive environment as we continue in our journey in democratizing finance for all. Stay connected with us — join our talent community and check out our open roles!
…
© 2023 Robinhood Markets, Inc.
…
3133187