Wrapping Up: Fall Recruiting Events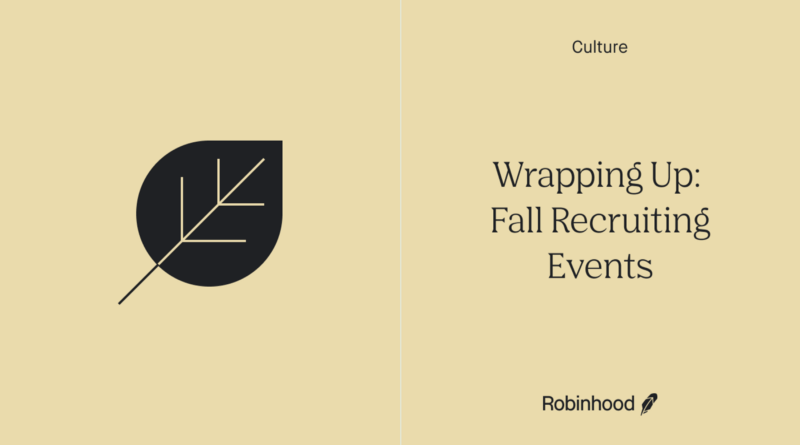 We've had an amazing season of fall university recruiting events, and met thousands of future Robinhoodies. Some of the events that were featured were General Information Sessions, Employee Resource Group Panels, Team Break Out Sessions, and Recruiter Office Hours. We also attended external events such as Colorstacks, Stacked Up Summit and Rewriting the Code's Career Summit focused on connecting with students from underrepresented groups.
Throughout these events, we received engaging questions from our audience. Here are some of our most common questions answered by our University Recruiting team.
What advice do you have for candidates applying to our roles?
Something I've been living by recently is "It's not your job to tell yourself no" and I think that really comes in handy when thinking about where you want to land next in your career. Limiting yourself by telling yourself no before even applying doesn't give us the opportunity to help you! — Hannah O'Toole, University Recruiting Specialist
Be prepared to talk about 'why Robinhood' and go into detail about what excites you about Robinhood. Highlight your internships, projects (classroom or personal projects), research, leadership experiences, any publications you have, your technical skills and how you've collaborated in teams. Do this on your resume and during interviews. — Kat Creamer, University Recruiter
For candidates looking to join the Security team, have a foundational understanding of application security, detection and response, threat intel and investigations. It's fine if you don't have coursework or internship experience that cover these topics, but foundational knowledge in these areas will help prepare you for interviews. — Chris Punsalan, University Recruiter
We view interviewing as a two-way street! We're interviewing you, but we want you to interview us as well and explore whether this is a good fit for you and what you're looking for. I'd recommend doing deep research on the role you're applying for and Robinhood as a whole. — Tiffany Siu, University Recruiter
My advice to students is to cater their resumes to the roles they are applying to because your resume is your story and make sure to highlight the key experiences you want the team to know about you. — Jason Lu, University Recruiter
I would recommend sharing details on your previous internship experiences and projects — add in metrics, outline the impact of the work you did. I would also advise students to do their research! Take the time during the interview process to get to know Robinhood more by reading our blog posts on our website. — Kelly Krieger, University Recruiter
As someone who recently joined Robinhood, why Robinhood?
I wanted to work for a mission-driven company. And not just "mission-driven," but a mission that I personally connected with. Being a prior Robinhood customer/user, and seeing how easy the platform was to use, and how it was so easy for me to invest, it was something I knew I'd be passionate about. — Chris Garinger, University Recruiter
I chose to grow with Robinhood because the company is growth oriented and in its next phase, focused on scaling and developing products to intently reach and empower more people to grow their joy and experience with their finances. I am so proud to be part of a company that purposely seeks to dismantle gatekeeping in building wealth through its products and its people. — Carmela Escarez, University Recruiter
As I thought about my next move, I wanted to make sure it was a company whose mission I personally connected with. As a woman of color and the daughter of an immigrant, I really resonated with the mission of "democratize finance for all." Robinhood lowered the barrier of entry and I was able to watch friends and family gain access to the stock market, a place where they historically thought wasn't meant for them. — Shireen Kuykendoll, University Recruiting Manager
What's your favorite part of the intern season?
I love our intern pod groups, planning events with them and getting to know each other more throughout their time at Robinhood. It allows us to take a break from work and have fun! I also love seeing the interns final presentations! Each intern is assigned a specific project that they work on during their time at Robinhood, and it's amazing to see the scope of their work. — Gabby Castillo, University Recruiting Specialist
My favorite part about the intern season is getting to know our interns. Before each term, I get to know the interns briefly by creating the yearbook, but when they officially start, I enjoy getting to know them even more. They're all so eager to learn and excited to be part of the company, and that makes all the planning so worth it! — Mi Hua, University Recruiting Specialist
I love seeing how much my interns grow in just the couple of months they're here with us. As their recruiter for the summer, I have the unique opportunity of greeting them when they first join and congratulating them as they finish their internships. I truly believe that our interns play a crucial role in the success of Robinhood, so it's always awesome to see and experience their growth. — Julie Jung, University Recruiter
What's been a standout moment during our fall recruiting event season?
We host Open House annually and this year, although virtual, it was still incredibly engaging. There were 40 Robinhood representatives, 12 sessions, and over 300 students attended. Not only is this an event to get information on how to apply and get an inside look into teams at Robinhood but it also offered students an opportunity to learn how to market themselves professionally and set themselves up for future success in their careers. We've already seen several Open House attendees go through the interview process and hope to continue providing insight into how to best interview, brand themselves on LinkedIn, and network with others in Robinhood's upcoming events. — Ashley Smith, University Recruiting Project Manager
The standout moment for me was our first ever Fireside Chat and Resume Tips session for students who attend HBCUs. Our attendees got a chance to sit down 1:1 for a resume review with our recruiters as well as hear from our representatives from Black Excellence on what it means to be a Robinhood employee. To me, this event not only helped students when applying for roles but really showed how invested each Robinhoodie is to see every student grow and become successful regardless of prior experience and background. — Hanieh Haddadian, University Recruiting Specialist
Any last pieces of advice for our candidates?
Something that always leaves a lasting impression is when I see that a candidate has done their research — whether it's noting our mission & values or an important event that's happened at our organization, or even mentioning something about my background & experience. Another standout is when candidates ask thought-provoking questions — it really showcases their interest and passion to learn more. Lastly, a lesson I have learned during my career is to remain humble and know that there's always something to learn and take away from each interaction or situation. So my advice is threefold: do your research, ask thoughtful questions and stay humble. — Char Delapena, University Recruiting Manager
We are always looking for more individuals who share our commitment to building a diverse team and creating an inclusive environment as we continue in our journey in democratizing finance for all. Check out our open positions — we can't wait to hear from you!
Robinhood and Medium are separate and unique companies and are not responsible for one another's views or services.
© 2021 Robinhood Markets, Inc.