Meet a Robinhoodie: Aminaaz Jaffer-Hussein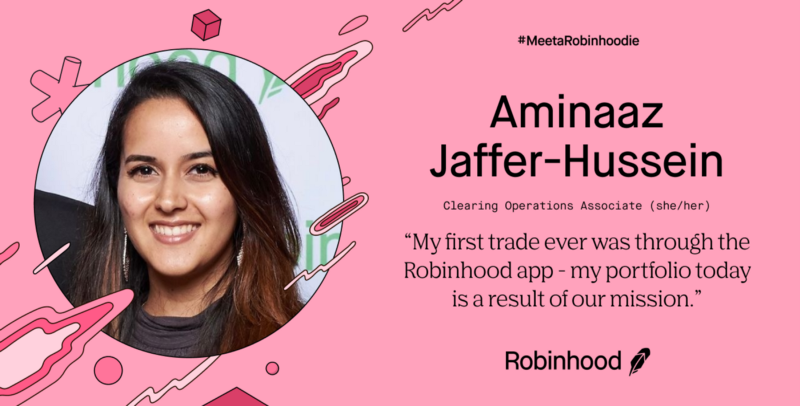 Welcome to our series "Meet a Robinhoodie"! Each post, we ask a Robinhood employee about their path to Sherwood Forest and why they joined.
Aminaaz Jaffer-Hussein is a Clearing Operations Associate for the Treasury team based in Lake Mary, Florida. Now, let's get to know her!
Why did you join Robinhood?
My first trade ever was through the Robinhood app — my portfolio today is a result of our mission. I am here to assist in democratizing finance for all, help break down the barriers that hold so many people back from investing, and aid them in taking control of their financial future.
Tell us about your career growth so far at Robinhood.
I feel very fortunate to have had exposure to multiple functions within Robinhood in addition to working with my bright and talented peers who have helped me shape my career path.
I initially joined Robinhood as a Customer Experience Associate. This was a personal milestone as it was also when I transitioned industries from HR to Finance. A few months later, I was selected to help form the CX Help Desk team designed to coach and guide agents on how to resolve escalated customer inquiries.
As a Help Desk agent, I worked really cross-functionally with other teams to research escalated issues. This exposed me to other areas of the company and piqued my curiosity, so I began reaching out to my peers in other departments to learn more about what happens outside of Customer Experience. With the help of my mentors, I found my next step — the ACATS (Automated Customer Account Transfer Service) team. I spent about 8 months with a strong and highly knowledgeable team learning about ACATS and advanced further into the Treasury department. I am learning so much from the different teams that I work with, while meeting amazing Robinhoodies along the way!
What's one project you're proud of?
I am proudest of a project I was assigned to during my time as a Customer Service Associate — I was assigned a brand new class of CX agents to onboard into their new roles. The fact that I was trusted to impart knowledge and guide new associates in their first two weeks of learning was very rewarding. This project helped me recognize my own ability and interest in training which then led me to my next growth opportunity — the CX Help Desk.
Our mission is to democratize finance for all. What does our mission mean to you?
Our mission means we are focused on helping to break down the barriers that hold back countless people from financial freedom. From the simplicity of the app to commission-free trades, everyone at Robinhood is focused on educating and empowering our customers to pursue that financial freedom.
What is your favorite Robinhood value?
I would have to say that my favorite Robinhood value would be our Radical Customer Focus. I have seen first-hand how our agents go above and beyond to ensure that our customers' needs are met. I am fortunate to have worked with various teams and it is almost a daily occurrence that I witness individuals outside of the Customer Service department also going out of their way to contribute to a customer's experience.
At Robinhood, we believe we are all investors — How do you invest in yourself?
Robinhood has helped me explore financial investing through a whole new lens. I am proud to say that I have built a diverse portfolio over the years that I would have never thought possible if it wasn't for commission-free trading. The thought of having to pay a fee to invest my own money sounds absurd now, and I have Robinhood to thank for breaking that barrier for me.
Along with that, I have also had the opportunity to invest more time and energy into career growth. Aside from growing my career at Robinhood by internally moving into 3 different roles, I am also in pursuit of additional licensing to further my career.
Finally, the work-life-balance at Robinhood allows for more time spent on myself, family, friends, health, mental wellness and hobbies.
Quick Facts!
First job? Nail Salon Receptionist
Current Netflix show? Behind Her Eyes
Favorite Robinhood group? Sisterhood+
Your team is growing! Any tips for future applicants?
Robinhood recognizes and appreciates passion. Our hiring process is unique and our interviews are the most thorough that I have experienced. Be prepared to have meaningful conversations and express your interest through questions, powerful examples of your work and most importantly, show your passion.
What is your favorite thing about the Robinhood app?
My favorite thing about the app would have to be how incredibly user-friendly it is. Investing requires some level of research and certain trades can get complex, but the one thing I don't have to think twice about is the accessibility and smooth execution via the app!
Anything else we should know?
I am very grateful to have continued guidance and support in my journey. The community that we have built is truly an inspiration for me daily.
I will always be thankful to mentors, principally Jonathan Azara and Kelley Davidson for being absolutely exceptional. Your support and teaching have given me perspective and direction I would not have otherwise had.
If you're interested in working with Aminaaz and the rest of the team to support our mission of democratizing finance for all, join us!
Robinhood and Medium are separate and unique companies and are not responsible for one another's views or services.
© 2022 Robinhood Markets, Inc.