Meet Robinhood's Women in Tech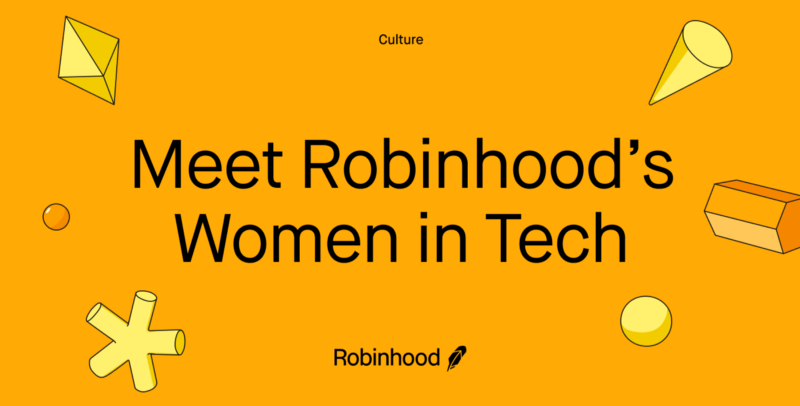 Meet Women in Tech!
Women in Tech (WIT) is a Robinhood Employee Resource Group (ERG) with a mission to foster a community for women and non-binary engineers and their allies. Our guiding principles are community, career advancement, and inclusive hiring.
Our WIT group was created because women in engineering at Robinhood wanted to create a space that explicitly supported other women in technical roles. As new engineers started remotely and Robinhood announced that we were staying a primarily remote company, we reached out to the women in engineering to create an organized and intentional network to encourage a sense of belonging and community. Additionally, it is important for us to recognize different identities within the Women In Tech group and how that intersectionality creates unique challenges in the workplace. We are committed to supporting and empowering our women and non-binary engineers as they grow in their careers at Robinhood.
Origins of Women in Tech
Before the creation of the Women in Tech ERG, there was always interest at Robinhood for initiatives supporting women engineers. In previous years, Robinhoodies had developed and led these initiatives into full-fledged programs — including company clubs and cross-functional company initiatives, like sponsoring Grace Hopper Celebration Conferences. The Women in Tech community has always been present at Robinhood but this past year we made it an official ERG!
As we got our new ERG off the ground we were lucky to have the strong support of two longtime advocates for women in technology who supported us immediately — our VP of Engineering, Surabhi Gupta, and our COO, Gretchen Howard. Their support and the hard work of our WIT leaders helped us get things off the ground.
Since our kickoff we have had the opportunity to host career talks from women executives at Robinhood, build a roadmap of future events and programs, and sessions to give members an opportunity to network with WIT members across Robinhood. We are excited to do more and see our numbers and impact continue to grow.
Taking Action — WIT Tracks
WIT has three guiding principles: community, career advancement, and inclusive hiring. These principles have become our three "tracks" — which is what we call a goal or workstream. We have various projects that feed into these tracks that get us closer to those goals.
The Community Track aims to provide opportunities for women and non-binary engineers to meet each other and create an organic network. We want to build a safe space to talk about our experiences and any challenges we face. A recent initiative in this track is our New Hires Coffee Chats to introduce new hires to established Robinhoodies across different engineering organizations the moment they begin engineering onboarding.
The Career Advancement Track is dedicated to providing career-related support and guidance from fellow engineers and engineering leaders. For example, we have a Mentorship Program that aims to establish technical mentorship circles for members of our Women in Tech group, which we're expanding to support the career development of other underrepresented groups, Robinhoodies with intersectional identities being top of mind. In addition, we hold speaker series and small group discussions to address multiple topics such as "prove it again" bias, giving and receiving feedback, and women's representation leadership gap.
The Inclusive Hiring Track focuses on partnering with our IEB (Inclusion, Equity, & Belonging) and Recruiting teams to build gender-diverse teams in the Engineering organization that support intersectional identities. This year, we are participating in our Ambassador Program to speak to candidates about the culture of Robinhood, sponsoring events alongside recruiting to attract more diverse talent, and working closely with our partners to set ambitious goals for representation in engineering for 2022.
Transforming the Future of Finance
We are proud of what we have done so far to create a supportive and inclusive community for women and non-binary engineers to grow and thrive here at Robinhood. We also recognize there is much more to be done. If you are interested in joining our group and being a part of our journey in democratizing finance for all — check out our open positions 🚀
Robinhood and Medium are separate and unique companies and are not responsible for one another's views or services.
© 2022 Robinhood Markets, Inc.