Robinhood Partners with Operation HOPE in Support of the 1865 Project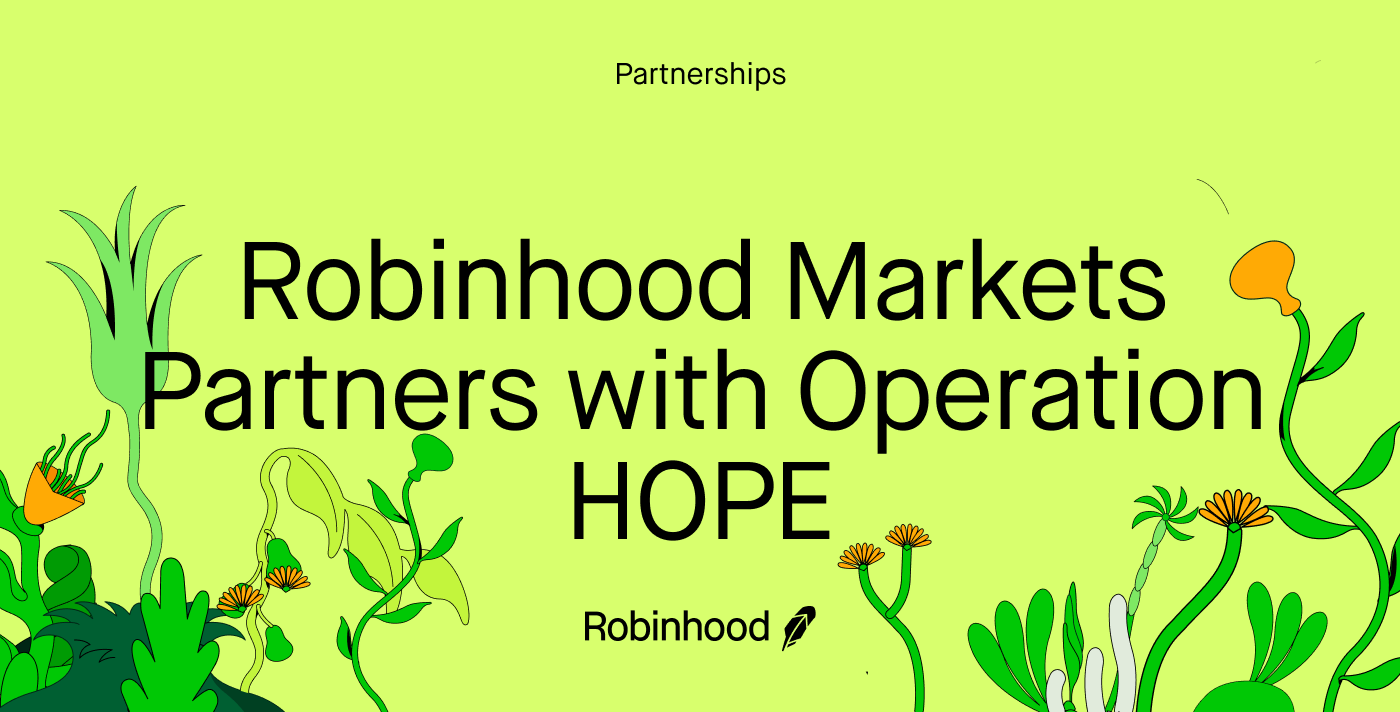 The initiative supports Operation HOPE's mission to expand economic opportunity
Robinhood Markets, Inc. is deepening our partnership with Operation HOPE through the 1865 Project, a new initiative that supports the organization's mission to expand economic opportunity in underserved communities through financial education and empowerment. With our support, the 1865 project will allow Operation HOPE to further grow and scale its work across America and fuel innovative programs and technologies.
Operation HOPE remains a leading force in financial empowerment due to its commitment to embracing technology-driven products and services to connect with more communities. Bringing more than 30 years of experience providing free financial coaching and credit counseling services, contributions to the 1865 project will help Operation HOPE leverage digital tools to serve some of the hardest-to-reach populations.
"Everyone should have the opportunity to build a stable financial future," said Dan Gallagher, Chief Legal, Compliance and Corporate Affairs Officer of Robinhood Markets, Inc. "Operation HOPE is helping do just that and empowering millions through access to educational tools and resources at a scale that would be unreachable without the help of digital tools. Robinhood is proud to help them grow and scale the vital work they're doing to create a more equitable financial system."
In 2021, Robinhood was the first company to sign Operation HOPE's Investors' Bill of Rights, a call-to-action for the financial services industry to provide greater financial literacy, knowledge and understanding to their customers. In commitment to this pledge, we've continued to support our customers on their investing journeys with regularly updated educational content through Robinhood Learn and the development of programming like Robinhood Money Drills, which provides funding to support personal finance classes for college students.
"As the need for financial literacy continues to evolve, Operation HOPE remains committed to forging transformative partnerships with leading innovators like Robinhood. With Robinhood's support, the 1865 Project will enable us to expand our reach and help change more lives," said John Hope Bryant, Founder, Chairman and CEO of Operation HOPE. "Together, we can harness the power of innovation to empower individuals and communities with the knowledge and tools they need for a brighter, more financially secure future."