The Future of Investing is 24/7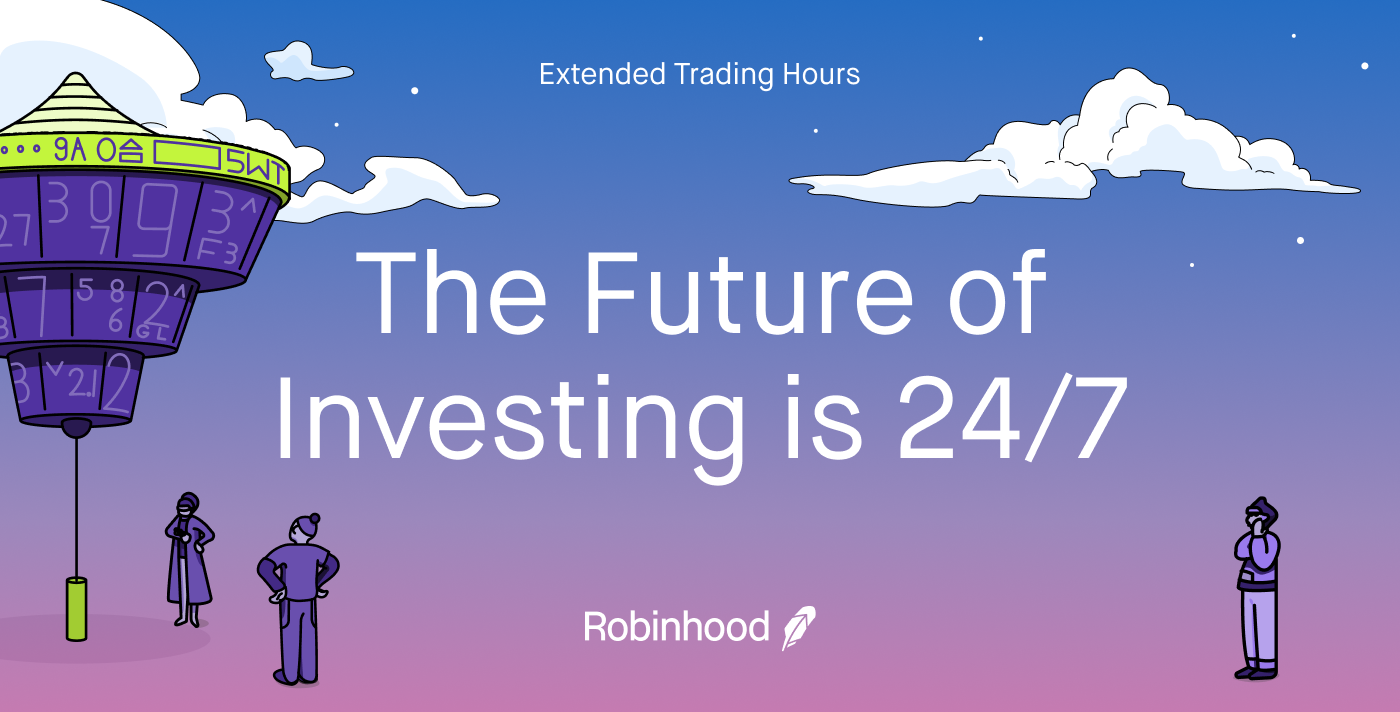 We're working towards 24/7 investing, starting with new extended hours
from 7 a.m. to  8 p.m. ET
Robinhood was built to revolutionize the markets and bring more people into our financial system. That's why Robinhood is working towards offering 24/7 investing — giving customers unprecedented access to the financial markets. In the future, when not beholden to traditional hours, retail investors will be able to invest more on their own terms and timelines, regardless of time of day or week. 
As an important step towards 24/7 equities investing, we're launching new extended hours that will allow customers to trade from 7 a.m. to 8 p.m. ET. By expanding pre-market trading to 7 a.m. from 9 a.m. ET and after-hours trading to 8 p.m. ET, we're adding an extra four hours for orders to be filled.*
Our customers often tell us they're working or preoccupied during regular market hours, limiting their ability to invest on their own schedule or evaluate and react to important market news. In fact, we've seen a community of Robinhood early birds and night owls who log in exclusively outside of regular market hours. They're juggling a lot, from full-time jobs to school, families and side gigs. Our new extended trading hours for equities will give them more opportunities to manage their portfolio at a convenient time for them, whether that's in the early morning or in the evening. 
Our mission to democratize finance for all has come a long way since we started with commission-free trading in 2014. Since then, we've introduced new products and programs to expand access to a new generation of investors; crypto in 2018; fractional shares in 2019; automatic investments in 2020; and 24/7 customer support in 2021. Today's launch is just another step on this journey, and we're just getting started. 
Learn more about our new extended hours, including the limitations, benefits, and material risks specific to extended hours trading, by visiting our Help Center. Customers with additional questions can reach us via phone 24/7 by requesting a call back in-app. 
*Previously, we offered extended hours trading from 9 a.m. to 9:30 a.m. ET and 4 p.m. to 6 p.m. ET.
Disclosures: Trades of stocks, ETFs and options are commission-free at Robinhood Financial LLC.  Other fees may apply. Please see Robinhood Financial's Fee Schedule to learn more. 
Fractional shares are illiquid outside of Robinhood and are not transferable.  Not all securities available through Robinhood are eligible for fractional share orders. For a complete explanation of conditions, restrictions and limitations associated with fractional shares, see the Fractional Shares section of our Customer Agreement. All investments involve risks.